Young people converge on Tbilisi
By Etuna Tsotniashvili
Friday, April 24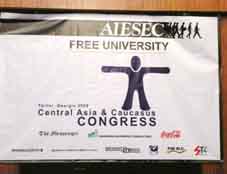 The Central Asia and Caucasus Congress of the AIESEC organization officially opened on April 23 at Sheraton Metechi Palace hotel. The event brought together over 100 international delegates from 18 countries worldwide. The main topics it will discuss are leadership, entrepreneurship, development, youth exchange, regional cooperation and sustainability.
Juli Huang, the AIESEC Central Asia & Caucasus Regional Coordinator who opened the ceremony, welcomed delegates and invited guests to the Congress and expressed her pleasure that Georgia is hosting such an international Congress for the first time this year.
"For sixty years AIESEC has been developing leaders for management, civil society and government on a global level in many parts of the world. We have the capacity in this region to deliver our leadership training to young people in this country," she told The Messenger after her speech.
"We have delegates here from 18 countries, not only Central Asia and the Caucasus but other countries as far away as Australia and Brazil, and during the conference all of the delegates will be able to interact with each other, get to know each other's cultures, understand the cultural aspects of the work that we do and also build tangible projects to exchange young people between our countries," Huang added.
With the broader aim of supporting and maintaining cooperation between Central Asia and Caucasus countries and promoting joint initiatives with other regional networks of the organization across the world the Congress will serve to create regional partnerships and projects. AIESEC representatives stated that the Congress provides diverse experiences for young people in order to inspire and motivate them to contribute more actively to the development of their personal and professional trajectories and their societies.
Speaking with
The Messenger
Irakli Kobalia, the founder of AIESEC in Georgia, said "When I was a student it was difficult to participate in things like exchange programmes. AIESEC provides a good opportunity for Georgian students to go abroad and enhance their skills and experience." He added that since AIESEC in Georgia was founded more than 100 students have gone abroad to work for two months as part of the programme.
After the opening ceremony a Global Village event was held at which delegates from diverse countries represented their cultures with a display of traditional clothing, music, dance, food and cultural artefacts. The Congress will last for 4 days and finish on April 26.
AIESEC is an international platform for young people to discover and develop their potential to make a positive impact on society. AIESEC's innovative development process consists of providing unmatched leadership experiences, international opportunities and a global learning environment. The organization was founded in 1948 and today has over 32,000 members in 107 countries and covers 5 continents.