Two die in Star Academy tragedy
By Sopo Datishvili
Monday, April 27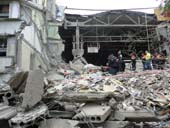 Two people died when at around 5 a.m. on the morning of April 26 a 30-metre section of the five-storey building where the contestants in the
Rustavi 2
musical reality show Star Academy live and practice suddenly collapsed. The building is in Sandro Euli Street. A team of rescue workers was mobilized immediately and later the Tbilisi Mayor, the Health Minister and the Leader of the City Council also attended the scene.
Initially the main aim of the rescue workers was to find two missing Star Academy staff, Nika Gelashvili and Giorgi Gabunia. Unfortunately they were found dead after more than ten hours of searching the ruins of the building.
Two other members of staff, site moderator Tatuli Natroshvili and journalist Gvantsa Mamardashvili, were taken to the Republican Hospital with injuries. Their condition is not critical. Natroshvili had a wound on her forehead and also several fractures. Mamardashvili had suffered fractures as well. Seven girls participating in the show were taken to the hospital in psychological shock but as they had no injuries they were discharged.
City Mayor Gigi Ugulava was one of the first to visit the scene of the accident. "I know this building was well constructed and only cosmetic repairs had been made to it. Thank God there were only a few people inside or there would have been more injured. It is difficult to discuss why this accident might have happened at present," he said, unaware of the two deaths.
Those who survived the building collapse without injury were nevertheless all in shock. "We heard a thundering sound and when we went out we saw that the building had already collapsed. Only the dormitories were saved," said Star Academy contestant Goga Meskhi. "Suddenly we felt a quake and the floor started slipping away, then the ceiling collapsed and in a few minutes I was hanging on a small part of what was left of the building," said production editor Imeda Chaduneli.
The Vake-Saburtalo Supervision Office has started studying files about the building. The head of the office said it is difficult to say yet exactly what caused the collapse. He explained that during the reconstruction works the owners of the building didn't have any relation with the Supervision Office. "There are many reconstruction works taking place in Vake-Saburtalo and internal works aren't under our control in most cases. We supervise only external repairs. So we don't know exactly what kind of work has been done inside the building," head of the Supervision Office Irakli Kvaratskhelia told Interpressnews.
Just a day before the seventh weekly concert of the Academy students, they have had to abandon the project due to this tragic accident. There were still eight contestants left in the show, the other six people in the building that night being staff members.
The administration of the contest has decided to close all the forums on the official Star Academy site except one, which is about the accident. The administration is waiting to see whether the directorate and producers wish to continue the project. Star Academy is a joint project of
Rustavi 2
and MAGTI.