Opponents unite in regret over Star Academy deaths
By Sopo Datishvili
Tuesday, April 28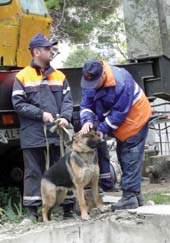 On April 26 President Saakashvili visited Sandro Euli Street, where the building housing the participants and staff of the Rustavi 2 reality show Star Academy has collapsed. Saakashvili offered his condolences to family members of the two members of the show's production staff who died in the tragedy, Nika Gelashvili and Giorgi Gabunia. "The findings of the investigation into this incident should be presented in ten days time and we should also do our best to prevent such tragedies occurring in future," stated Saakashvili at the scene.
Prime Minister of Ukraine Yulia Tymoshenko has also expressed her sorrow about the tragic accident in Sandro Euli Street. She asked Georgian Prime Minister Nika Gilauri to inform the families of those who had died that Ukraine stands with them at this tragic moment.
The opposition leaders at the protest meeting in front of the Parliament also expressed their condolences to Rustavi 2. "We share the sorrow of Rustavi 2 on the occasion of the tragic death of its staff members. This case demonstrates once more how unstable are the Government and the surrounding we live in, "said Goga Khaindrava at the demonstration.
Tbilisi Supervision Office has not been able to give the exact reasons for the building collapse yet. According to its head Irakli Kvaratskhelia the building was expect to remain structurally sound for the next 50 years. He suggested that previous scientific experiments might have damaged some central internal construction or water might have leaked into the basement of the building to generate this sudden collapse, but these are only suppositions. The building was constructed in the 1960s and experiments designed to test the stability of different construction materials used to take place there.
The collapse of the five-storey building killed two editors of the reality show. 27-year-old Giorgi Gabunia had also worked on
Rustavi 2
reality shows "Dasi" and "GeoBar" and got married a few months ago. Nika Gelashvili, another victim, had been working on Star Academy since last month. He was 36 years old and had a wife and 3-year-old-son.
Two other
Rustavi 2
staff living at the site, site moderator Tatuli Natroshvili and journalist Gvantsa Mamatsashvili, are still in hospital. Doctors say that Mamatsashvili will be sent home, but Tatuli Natroshvili is in a more serious condition as she has spinal injuries and will be operated on.
The building collapsed early in the morning on April 26. Only two rooms remained intact, those in which the participants of the show were sleeping. They were taken home. 14 people were in the building when it collapsed. Rustavi 2 has stopped broadcasting entertainment shows for a while and declared a period of mourning.