Tbilisi denies detention of Ossetian family
By Temuri Kiguradze
Tuesday, April 28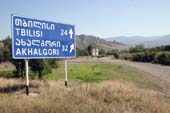 The Georgian police have stated that they have not arrested any Ossetians at the administrative border recently. They made this statement in response to an accusation by the South Ossetian de facto authorities that the Georgian police have arrested an Ossetian woman and are demanding a ransom for her.
This "detention" was reported by the South Ossetian Information and Press Committee on April 26. "Georgian police have detained Valentina Bedoeva near Akhmaji village," wrote the Committee, adding that Bedoeva was arrested with her two children, 10-year old twins. The report says that the police demanded 60,000 roubles (USD 1800) in ransom and threatened to start a criminal case against the family if this was not paid. According to the Ossetian report Bedoeva and her children were visiting relatives in the village, which is on Georgian-controlled territory near the administrative border with South Ossetia.
The Russian media has also broadcast this report, adding that Bedoeva is a Russian citizen and a resident of the North Ossetian capital Vladikavkaz. According to Russian news agency ITAR-TASS the woman visited the town of Akhalgori, which is in the territory now controlled by the separatist and Russian troops, and then decided to see her relatives in Akhmaji and was detained.
However the head of the Shida Kartli region Georgian police Vladimir Jugeli states that this incident never happened. "Georgian law enforcers have not detained any citizens of Ossetian nationality and of course they have not detained any woman arrested with her children. Furthermore no person with such a surname [Bedoeva] was even stopped for checking," Jugeli told journalists on April 27.
On April 17 the Russian Ministry of Foreign Affairs advised Russian citizens not to travel to Georgia. This followed the detention of a member of the Russian pro-Kremlin youth movement Nashi, who was accused of "preparing provocations on Georgian territory" and later handed over to the Swiss Embassy which currently looks after the interests of the Russian Federation in Georgia. Tbilisi stated at the time that the release of the activist was a gesture of "goodwill" by the Georgian Government.
This detention allegation was not the only one faced by the Georgian Government on Monday. Russian Federal Forces Chechnya HQ stated that an armed group of 60 men "trained in camps on the territory of Georgia" had relocated from the Pankisi Valley into Chechnya. This accusation immediately drew a reaction from Tbilisi.
"The Russian side traditionally tries to shift the blame for its own unresolved problems onto a third party. The reference here is to the exceedingly escalated situation in Chechnya and the North Caucasus. Despite the fact that the Russian authorities have announced the completion of an anti-terrorist operation, violence and bloodshed, involving in many cases innocent people, still continue to be reported from the North Caucasus. There is no need to do any special research to confirm this, it is sufficient to browse through the Russian news media and internet sites to get a clear picture of the processes taking place in the region," said the Georgian Foreign Ministry on April 27, adding that "despite the camouflaging of problems, and taking into consideration the dire experience of the past, the international community is strongly urged to remain alert in order to prevent Russia from carrying out yet another aggression against Georgia under some invented pretext."