Assistance programme in Shida Kartli
By Mzia Kupunia
Thursday, April 30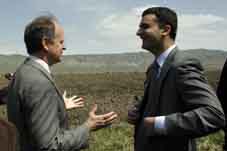 Resident Representative of UNDP Robert Watkins and Minister of Agriculture of Georgia Bakur Kvezereli visited Shida Kartli on April 29 to check on the progress of the assistance programmes for farmers in the Kaspi municipality and the new settlements of Metekhi and Teliani. They also met the heads of municipalities and local residents to talk about development challenges in the region and the immediate needs of people.
The United Nations Development Programme (UNDP) early recovery project was instituted in September 2008 when internal funding of USD 1.2 million was allocated. UNDP representatives say that a further EU 4.4 million was allocated from the European Union and used to expand the project to the other two regions of Georgia, Mtskheta-Mtianeti and Samegrelo, affected by the military conflict in August 2008 between Russia and Georgia.
The UNDP representatives noted that in Shida Kartli region the early recovery project has so far benefited more than 10,000 people in some 40 villages. The recovery works involve repairing 40 infrastructure facilities, including drainage and drinking water supplies, school buildings, kindergartens and municipal offices.
UNDP has also donated winter wheat seeds and provided ploughing and other agriculture services to 4 villages where, according to officials, the production cycle has been completely broken. Overall, the UNDP representatives stated that the United Nations Development Programme has helped cultivate 650 ha of arable land, securing the main source of income of some 1,121 farmers and their families.
"UNDP also assisted about 90 IDP families in the new settlements of Metekhi and Teliani in cultivating 34 ha of orchard acreage provided by the Georgian Government. With UNDP support, each of the families received from 90 to 100 fruit tree saplings as start-up assistance," the Programme's statement reads. "In an effort to ensure the smooth transition from crisis to long-term development, UDNP is closely working with local authorities in Shida Kartli to develop specific recovery plans for each of the four municipalities in order to establish a wider regional development strategy. In the Mtskheta-Mtianeti and Samegrelo regions UNDP's assistance focuses on business development through microfinance, repairing infrastructure and vocational education," the statement concludes.