Border works underway in Georgia's breakaway regions
By Mzia Kupunia
Monday, May 4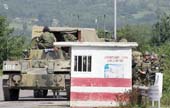 The Abkhazian de facto Government has started drawing its 'border' with Georgia, the Georgian media reported on Sunday. These border drawing activities commenced after the de facto authorities and Russian President Dmitry Medvedev signed an agreement on April 30 concerning joint border control. Under this agreement Russian troops will guard the administrative borders of the Georgian breakaway regions.
Rustavi 2
TV reported on May 3 that Russian troops had brought additional building materials into the Gali region. According to the TV company video signalling equipment and control pads are being installed at the administrative border. This process is being observed by EU monitors, the report says. The Georgian Public Broadcaster has added that tunnels are being constructed on de facto Abkhazian territory close to the administrative border and presented some photos allegedly showing this taking place in the Gali region.
"Russian border guards have successfully begun fulfilling their duty, which is to secure the borders of Abkhazia and South Ossetia," Rustavi 2 quoted the head of the Press Service of the Russian Regional Border Department Management Sergey Livantsov as saying. According to Livantsov deploying troops at the borders of the separatist regions is designed to establish peace and security in the whole Caucasus.
Representatives of the Abkhazian Government-in-Exile have also confirmed that construction works are going on at the administrative border. Paata Shamugia, the representative of the Tbilisi-backed Abkhazian Government of the Gali district, has said the situation in the regions is tense. @Heavy machinery and construction equipment have been deployed in Gali. The occupiers are trying to isolate the population of Gali, it is a total annexation of this territory," Shamugia noted.
Reports say the border contingent has also been increased in de facto South Ossetia. On May 2 the Ossetian news agency also released information about finding a cache of weapons. The de facto South Ossetian Ministry of Defence said that intelligence officers had discovered a secret storehouse containing anti-tank mines and projectiles. According to de facto Deputy Defence Minister Ibrahim Gaseev these weapons were found in the house of an ethnic Georgian in the village of Vanati.