Saakashvili denies visiting Bodrum for holiday
By Mzia Kupunia
Tusday, May 5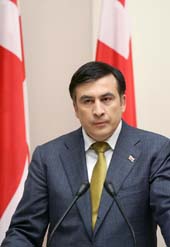 On Monday Georgian President Mikheil Saakashvili commented on his visit to Turkey on April 25, which has been widely discussed by both Turkish and then Georgian media outlets. Saakashvili said he had attended an energy summit in Sofia and then gone on to Turkey. However his visit was a business trip and not a holiday, as suggested by the Turkish and Georgian media and some Georgian opposition representatives.
Saakashvili said he had gone to Turkey to see a greenhouse farm and observe new technologies, with a view to introducing these in Georgia in the near future. He said the Head of the Adjara Autonomous Republic Levan Varshalomidze had accompanied him on the trip and they had met some potential investors there. However, Saakashvili did not specify the exact location he visited in Turkey.
"No matter how much some people talk about my foreign visits, I will carry on travelling and working with people," Saakashvili noted.
The Georgian opposition had expressed their discontent with information reported in Turkish media outlets The Journal of Turkish Weekly, Dogan News Agency (DHA) and CNN Turk that Saakashvili was visiting the Turkish sea resort of Bodrum. According to opposition representatives the President was planning to spend a four-day holiday at one of the hotels in Bodrum. Georgian officials strongly denied the allegations. MP Marika Verulashvili said that the President was in Sofia and would return to Tbilisi on April 26. On that day, as the Georgian media and opposition started talking about the President's Bodrum holiday, Saakashvili visited the site of the collapsed Star Academy building, however he did not make any comment about his visit to Turkey then.
Some political analysts have abstained from commenting on the President's remarks about his visit to Turkey, while some have said it is "unacceptable" that while on an alleged "business trip" the President had dropped into a resort for fun. Political commentator Giorgi Khutsishvili said the President should not be visiting resorts at such a "tense" period for the country. "I consider this a manifestation of the President's point of view that there is no crisis in the country and the people standing on Rustaveli Avenue are marginal personalities only. He is deriding the several thousand people who came out into the street to protest on April 9," Khutsishvili said.
On May 4 Saakashvili also stressed the importance of maintaining jobs and economic stability despite the world financial crisis, adding that Georgia is facing problems of unemployment and poverty. However, he said that although due to the financial crisis construction works are being suspended, new factories are being opened in Georgia and construction works continue at double their previous pace in Batumi.