Opposition highway blockade will now start tomorrow
By Etuna Tsotniashvili
Thursday, May 7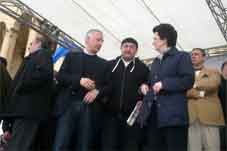 Two days ago the opposition postponed their campaign to block off the major highways around Tbilisi. They have now announced that it will begin tomorrow, May 8. The roads in and out of Tbilisi will be blocked from 4 pm to 5 pm for an hour, opposition leaders said yesterday in front of Parliament. The opposition postponed the original blockade due to the incidents at Mukhrovani military base.
The Parliamentary opposition Christian Democrats commented on the plan yesterday. Their leader Giorgi Tagamadze said that blocking the major highways is very dangerous and will complicate the process of changing the current Government. He said that Georgia is attractive to the West due to its transit function and that NATO regards Georgia as a partner country, but if something untoward happens both of these positive things will be put at risk. Targamadze also explained that the blockade may influence and hinder the NATO military exercises whilst also suspending transit which brings Georgia revenue.
Opposition leaders outside Parliament also protested against the arrests of two members of the April 9 youth movement for attacking GPB journalist Nikoloz Avaliani. Giorgi Oniani and Revaz Revazishvili were detained yesterday and the Interior Ministry states that an investigation has begun. The detainees admit to assaulting the journalist on a video released by the MIA. Eka Beselia, one of opposition leaders, stated in front of Parliament that they will now hold rallies outside the Interior Ministry but they donít have concrete plan concerning this at yet. Beselia also said that the authorities have a plan to accuse her and another opposition leader, Salome Zourabichvili, of starting the riot in a womenís prison colony.
Meanwhile, fellow opposition supporter and TV face Gia Gachechiladze (Utsnobi), the hero of TV project Cell No 5, intends to walk around West and East Georgia. As his producer Baia Gabadadze said yesterday, Utsnobi will visit Batumi on 13 May and hold a concert there and then march to Kutaisi with supporters. Utsnobi plans to hold a further concert on 17 May in Kutaisi and will return to Tbilisi on 26 May. Opposition leaders will not take part in his procession from West Georgia to Tbilisi.