Former diplomat arrested for "espionage"
By Mzia Kupunia
Thursday, May 7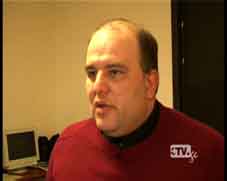 Former high-ranking diplomat and military expert Vakhtang Maisaia was arrested on Tuesday on charges of espionage. According to the Ministry of Internal Affairs Maisaia had continual contact with the "special services of a foreign country" and provided them with information about the military, political and economic situation in the country. The MIA reported that coded emails sent by Maisaia revealed state secrets, and that during the August war he was "hourly" sending out information "about units of the Georgian armed forces, the number of armoured vehicles and their location."
On Wednesday the Ministry of Internal Affairs also released a videotape of Maisaia giving testimony, in which he speaks in detail about his "espionage" activities, pointing out that he received approximately EUR 7,000 for his work, including bonuses for "special materials". Maisaia said that at first he used to send "analytical materials", and then "little-by-little transferred to operative information." He also said that he received EUR 3,000 for the information he provided to special services during the August war and that he used to get the information from his own "personal contacts" in the Ministry of Defence of Georgia.
Commenting on the arrest of the former diplomat, Georgian President Mikheil Saakashvili said it was alarming, adding that "Maisaia did huge damage to this country's security." Saakashvili stressed that Maisaia used to work in favour of Russia. "Last year during the August war he transmitted information about the positions of Georgian troops every two hours, in order for the enemy to find and bomb them more easily," Saakashvili noted. The President said "apparently we still have a long way to go in establishing a state mentality in all institutions" in Georgia.
Some analysts say that although Maisaia has admitted cooperating with foreign special services, it is necessary to get more information about the case. Military expert Koba Liklikadze told The Messenger that comprehensive information is needed as Maisaia was a "very high class diplomat." "It should also be discovered in what conditions Maisaia gave his testimony," Liklikadze noted.
37-year-old Vakhtang Maisaia, who was a counsellor at the Georgian Mission to NATO from 2004-2008 and is currently Dean of the International Relations and Political Science Faculty of the Georgian University, could face 12 years in prison, the MIA said. The case is being investigated by the Department of Counterespionage. Advocates representing the former diplomat have not made any comment so far.