Vashadze attends Council of Europe session
By Mzia Kupunia
Thursday, May 14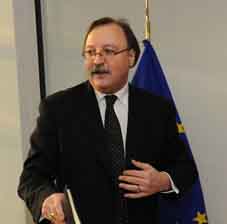 Georgian Foreign Minister Grigol Vashadze participated in the Jubilee Session of the European Council in Madrid on May 12, which was attended by the Foreign Ministers of 47 states. According to the MFA the "absolute majority" of these Ministers confirmed their "unconditional" support for the territorial integrity and sovereignty of Georgia. "In their decision, the Ministers stressed the necessity of the Council of Europe taking adequate measures after the Russian Federation's attack on Georgia and its occupation of Georgia's territory, as well as recognising the importance of restoring democracy, human rights and rule of law in line with the Council of Europe values and standards," the Foreign Ministry statement reads. "In their decision the Ministers expressed their support for implementing the six-point action plan worked out by the Council of Europe Human Rights Commissioner, which envisages the secure and honourable return of IDPs and refugees," the statement continues.
The Georgian Foreign Minister touched on the issue of the Georgian-Russian conflict in August and the current situation in Georgia's breakaway regions in his speech in Madrid. "Two parts of my country, two occupied Georgian regions, have turned into black holes, where fundamental human rights are not respected, from which the local population flees persecution and misery, where forced conscription and deprivation of nationality and citizenship have become a routine practice, where education in the Georgian language is denied, where freedom of movement is limited by the occupying forces of the Russian Federation, where humanitarian aid is not allowed to be distributed and to which human rights protection organizations do not have access," Vashadze told the Ministers. "We have all witnessed abuses of the basic principles of international law and the peaceful coexistence of democratic nations; moreover, we have all witnessed atrocious acts of ethnic cleansing, here on European soil, in the twenty-first century," Vashadze added.
Vashadze stressed that it is important that "grave violations of our core values do not remain unnoticed and are countered appropriately." He thanked the countries who were in favour of elaborating a concrete plan of action to deal with the consequences of the war between Georgia and Russia.
While at the summit the Georgian Foreign Minister met his counterparts and other officials from Norway, Slovenia, Estonia, Bulgaria, Poland, Germany, France and Portugal. He thanked the Ministers for their support for Georgia. According to the MFA, the Minister informed his colleagues about the situation in Georgia's occupied territories and the Georgian Government's vision of what steps need to be taken by international organizations, including the Council of Europe, to "adequately" and "effectively" regulate the results of the Georgian-Russian conflict.