Georgian poetry translated into English by Lela Jgerenaia
Friday, May 15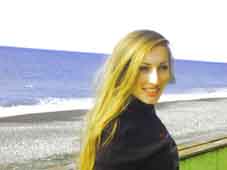 Lela Jgerenaia is a schoolgirl who is graduating this year. She is an IDP. Her family fled from Abkhazia, having been forced to do so by Russian-supported separatists.
Recently, Lela was admitted as a student on a full scholarship at Wellesley College, USA and she will matriculate in September, 2009. From August 2007 to June 2008 she successfully attended Freedom High School as a Future Leaders Exchange Programme student at Morganton, NC, USA.
Lela's translation achievements do not come as a surprise as she is a very talented girl, loving poetry and languages. You can see this when you read her English translations of samples of Georgian prose and poetry. Here we offer our readers a taste of them.
Tell the lovely violet
by Vazha-Pshavela
translated by Lela Jgerenaia
Tell the lovely violet
A worm will come and eat you up,
'cause so elegantly, you beauty,
you've coyly raised your head!
If you think of life
as heaven's open door;
do not come up, seek shelter in the earth,
there's naught to come up for.
If she won't see the sun, she will regret,
as it isn't always sunny!
Earth, feel pity
for my lovely violet,
take care of her, mother her,
as is in your nature.
Heart
by Niko Lortkipanidze
translated by Lela Jgerenaia
Died.
The sister's tender hand did not make the bed; the sick one's lover did not drop in with mysterious grief.
Friends did not give kind regards to him.
At the last moment he did not receive forgiveness from that calm, quiet human being, whose power he did not believe in any longer; but still wanted to hear soothing words from; his mother did not drop bitter tears.
He died in a foreign country.
-he was sick with a thousand diseases; no medicine helped. – the doctor was excusing himself to his friends.
They cut the corpse
The professor dropped his arms and screamed with astonishment:
-look! Gentlemen. What's going on here?!
They were staring at each other.
-Gentlemen, the heart. Where's the heart?
Instead of the heart only ashes remained. Learning about this from a telegram, horror-stricken by the misfortune the mother went into her beloved son's orphaned room.
Weeping – how could he abandon me, an accursed widow? Where's your fine heart, which I put into you with all my cries of woe.
A little map gave an answer from the wall.
-I faded it.
-I burned it! – gave away the picture on the table.
Nobody heard the words.