Government starts "new wave of terror", opposition say
By Mzia Kupunia
Thursday, May 21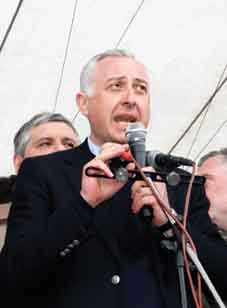 The opposition claim that patrol police officers detained 20 vehicles belonging to opposition activists and leaders on May 20. The "radical" opposition leaders have demanded that the vehicles be returned to their owners, calling their taking away "oppression" and an "attack", and threatened to block all the central highways in Tbilisi on May 21 if the vehicles are not returned.
The incident occurred early on Wednesday, when the car of New Rights leader David Gamkrelidze was detained in Tsavkisi, on the outskirts of Tbilisi. Gamkrelidze says that his security guard was driving the car, which belongs to him but is officially registered in the guard's name. The guard informed Gamkrelidze that he had been stopped and the New Rights leader soon attended the scene. Gamkrelidze's press service, says that the police officers wanted to take another car as well, but Gamkrelidze sat in the patrol car and said he would not get out until the police returned his car to him. After about an hour Gamkrelidze was forced to leave the police vehicle.
Soon afterwards the Ministry of Internal Affairs released a statement which said that at about 10 am on May 20 police stopped a Mercedes which was moving at high speed and violating the highway code. Police attempted to impound the car and remove it to the penalty parking area, but David Gamkrelidze, then arriving, resisted the police. "Despite the repeated requests of police officers he still opposed them and officers eventually had to forcibly remove Gamkrelidze from a police car. The report that the police took Gamkrelidze's car away is false," the MIA statement reads.
David Gamkrelidze has linked the impounding of opposition activists' cars to the blockade of the Kakheti highway on May 19. "The police officers wrote down the numbers of all the cars participating in the blockade and starting plotting revenge. Officially they say that the cars obstructed the Presidential escort, however this offence is not punishable by having your car taken away, bearing only an administrative punishment," Gamkrelidze noted, adding that "this is a fabricated accusation, aimed at striking back at those who participated in yesterday's blockade."
The opposition leaders have said the police had no grounds on which to impound the cars. Nino Burjanadze, leader of the Democratic Movement-United Georgia, called the incident "terror". "This is political terror, when cars are being confiscated without having committed any violations. This is the second wave of terror. The first was the beating up of the activists, which was stopped with the help of the people. Now the authorities have imposed the second wave of terror, in which vehicles are taken unlawfully."
Leader of the People's Party Koba Davitashvili agreed that the impounding of the car was a "criminal act" and added that the police have right to take a car away only if the owner of the vehicle has no driving licence or vehicle registration papers or is driving drunk.
The Ministry of Internal Affairs has said that "after a violation of articles 120 and 125 of the administrative code, specifically for disturbing the movement of transport and creating an accident-provoking situation, vehicles have been detained and removed to the penalty parking area, and relevant administrative measures have been taken against the violating drivers."