Georgia receives more than USD 50 million aid from US
By Temuri Kiguradze
Friday, May 22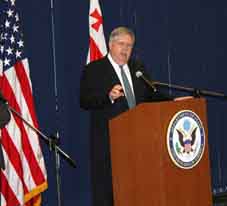 USD 53.3 million in aid for Georgia was released on May 21. US Ambassador John Tefft announced that this is part of the USD 1 billion package of US assistance to Georgia announced after the August conflict.
The American Embassy has said that this money, which will be managed by USAID, will assist internally displaced persons, rebuild infrastructure, restore economic growth and sustain investor confidence in the economy and promote democracy and energy security.
The first USD 20 million of the aid is destined for the improvement of democratic institutions in the country. "This funding will go to programmes for improving Georgia's justice system, legislative processes, elections and political processes, civic participation and media reform. It will also be used for supporting dialogue and participation in democratic political processes by strengthening civil society and its links to the Government and improving civic education," stated John Tefft at a press conference on May 21.
The next tranche of this assistance, USD $18,1 million, will be used for the development of the energy infrastructure and to provide economic stimulus. "We are proud of our success in this sphere," stated the American Ambassador, mentioning that during a similar programme several mini power plants were opened in different parts of Georgia. "Over $10 million will go to programmes that invest in modern energy infrastructure and services, helping Georgia move closer to energy security and independence. This funding will also help the Government of Georgia improve fiscal and monetary policy to stimulate economic growth and improve the environment for internal and external trade and investment," stated Tefft.
USD 8 mln will be spent on the improvement of the Georgian healthcare system. In this sphere the US has set as a priority the detection and treatment of tuberculosis and other public health threats and maternal, prenatal, and pediatric care. Additional funding will go to education and social service programmes. More than USD one million will also be used to replenish emergency humanitarian supply stocks which were depleted by the quick response to the August conflict, and to continue attending to the basic humanitarian needs of the new internally displaced persons. The remainder of the aid, about USD 6 mln, will be used to counter the proliferation of weapons of mass destruction and combat terrorism. Additional funds will be used for law enforcement restructuring and reform programmes.
"There is no threat in US or NATO assistance," stated John Tefft, answering The Messenger's question about Russia's accusations that the US was supporting Georgia's militarization. The cooperation [of the US and NATO] with Georgia, which includes the recent NATO-backed Cooperative Longbow/Lancer 09 military exercises, is "transparent and clear," stated Tefft, adding that anyone who has such a wish can monitor this assistance.