Georgian stores closed until Turkey gets out of Abkhazia
By Etuna Tsotniashvili
Thursday, May 28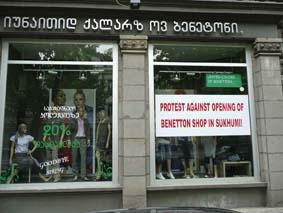 "Protest Against Opening of Benetton Shop in Sokhumi"- so says the sign attached to Benetton stores in Tbilisi. On May 26 Benetton stores in Tbilisi closed in protest at the decision of Benetton Turkey to open stores in Abkhazia. The owners of the shops stuck protest posters on the shop windows declaring that they strongly condemn Benetton Turkey's decision to open a branch in Sokhumi, adding that Tbilisi Benetton stores will be closed until Turkey reverses this decision.
"The company did not inform us about this decision [to open a Benetton branch in Sokhumi]. We did not know anything about this. Therefore the Benetton network in Tbilisi will be closed in protest until the situation is clarified," Benetton Georgia representative Maia Burduli told journalists on May 26.
On hearing of Benetton Turkey's decision Tbilisi's Benetton employees unanimously decided not to go to work. Benetton is waiting for a response from the Turkish side, which has not been received yet.
Yesterday Minister of Economy Lasha Zhvania held a special briefing at which he too expressed his protest against the Turkish decision. He said that during his next visit to Turkey, which should take place this week, he will meet his Turkish counterpart and Benetton Turkey representatives and hear what they have to say about this. "I have expressed our concern about this individual Turkish businessman's decision. As you all know the Georgian law on the occupied territories forbids anyone from running a business in Abkhazia or South Ossetia, the occupied territories," Zhvania stated on May 27. "We have expressed our concern and hope that the Turkish side, even though the Government is not authorized to interfere in private business, will take adequate measures to prevent the national interests of Georgia being damaged," the Minister said.
Turkish newspaper
Hurriyet
reported on Sunday May 24 that Benetton Turkey was planning to open a store in Abkhazia. The head of Benetton Turkey confirmed the report and specified that the store would open in Sokhumi.
"Benetton Turkey, the Turkish arm of Italy's leading manufacturer, has announced the opening of a store in Sokhumi, the capital of Abkhazia, a breakaway region of Georgia. Benetton Turkey will become the first global brand to do this, after previously opening a store in Tbilisi, Georgia," Hurriyet reported, quoting Zeynep Selgur, General Manager of Benetton Turkey, as saying, "Abkhazia is the door which opens the historic Silk Road to the sea. It has strategic importance with its tourism and sea transportation facilities. Benetton was the first global brand to open a branch in Turkey in 1985. We are proud to continue this trend in Abkhazia. We would like to continue our investments in Turkic Republics and in Cyprus."
On Monday Minister of Foreign Affairs of Georgia Grigol Vashadze called the Turkish Ambassador. "We are not against any commercial firm conducting business on the occupied territories, if their activity complies with the Georgian law on occupied territories," Vashadze told journalists on May 25. "But let them register in Georgia and obtain a Georgian tax identification code, pay taxes and act with our permission. If any company does not want to do this but instead violate our law, this will entail legal, commercial and other consequences," Vashadze said.
The management of Benetton Georgia has sent a letter of protest to their colleagues in Turkey. Benetton's Tbilisi office says that negotiations are taking place between Turkish Benetton and the brand's head office in Italy, and a decision will soon be made which will clarify the position of the company.