IRC helps villagers gain their rights
By Messenger Staff
Monday, June 1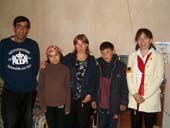 On May 29 the Chairman of the Civil Registry Agency of the Ministry of Justice, Giorgi Vashadze, and representatives of the International Rescue Committee (IRC) visited the village of Karbi, in the Gori region, and gave the Mariamidze family the ID cards which they had not possessed to date. Having no ID card had meant they could not receive any pension or assistance. The Government will now grant pensions and social support to the family.
Peter Leifert, the IRC Country Director in Georgia, said that the IRC Protection Monitoring and Referral Programme studies the major problems of the residents and actively cooperates with state institutions in order to ensure that vulnerable people receive the necessary service.
"We told the Civil Registry about the Mariamidze family in Karbi. The family members did not have ID cards and one of them could not get assistance for her baby because there was a mistake in the birth certificate. The Civil Registry staff worked very effectively to resolve this problem quickly. Now we have appealed to the Social Services centre in order to obtain them pensions as they are under the poverty line," Leifert stated.
According to Programme Manager Manana Amonashvili, IRC has also reported to the Civil Registry seven similar cases from different villages in which the project is working. IRC also carries out several other projects with the support of UNHCR and other donor organizations which are mainly targeted at children and their protection.
UNHCR is extending its support to enable the IRC to work in 25 villages in the buffer zone throughout 2009.