Bank Republic: being strong in difficult times
By Nino Kalandarishvili
Monday, June 1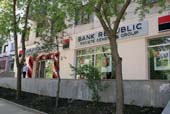 Bank Republic is a leading bank in Georgia and provides its customers with a rapid expansion of operations in retail and financial services. Bank Republic employs more than 1,000 staff and addresses all the difficulties which many banks in Georgia face, including unemployment, political instability and the troubles of the period of after the war.
"We cannot say that this period is a very easy one, but we are becoming an international management group involved in 120 countries. We have experience of managing difficulties even in countries seeing war and economic instability. We don't think that things in Georgia are much more difficult than in other countries," says Gilbert Hie, the Bank Republic CEO.
The problem which faces Bank Republic is that customers have difficulties repaying their loans, but the bank's management is working on this and finding the right solution for each customer, giving them a grace period even if they lose their jobs. "This difficult period will last for a few months before the economy picks up again," said Gilbert Hie.
In spite of the current difficulties Bank Republic continues to open new branches in the city. On May 19 it celebrated the opening of a new branch in Mukhiani, offering high quality services in a significant area of the capital. The top management of the Bank Republic, members of its Supervisory Council based in Paris, hosted the opening ceremony and expressed their gratitude for the great support they receive from financial and banking giant Societe Generale. At the opening ceremony an award was also given to the 1,000th Megobari deposit holder who received a gold medal.
Serge Eveille, Bank Republic's Head of Sales and Marketing, admits that "we make an impact in the country for sure. The pace of Bank Republic's development will slacken for a while, by which I mean that we will continue to open branches but at a slower pace. But there will be many opportunities." He added that the marketing strategy of the bank will be that of its parent Societe General group and reflect customers' need. It will give customers a good level of satisfaction compared to that offered by its competitors. Customers will rceive a good welcome when they enter the branch and their needs will be understood. Serge Eveille says that the Bank Republic approach is consumer focused, not product focused.