Blast on Georgian Railway
By Temuri Kiguradze
Wednesday, June 3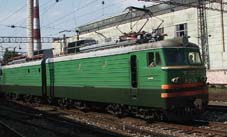 Several metres of railway were destroyed in an explosion in Western Georgia early on June 2. Georgian Railway described the blast as an "obvious subversion." The Tbilisi-Zugdidi passenger train had been scheduled to pass the site of the explosion about two hours later.
The company says that the incident occurred at about 4 am. "It has been confirmed that the blast was caused by a bomb with a time mechanism on it and TNT was the explosive used. Fortunately no train was damaged and no one was injured," stated Irma Stepanadze, a spokesperson for Georgian Railway. The damage was urgently repaired and trains were soon running on schedule again.
According to local residents the explosion was so strong that it smashed the windows of nearby houses. "It's true that the blast occurred near the administrative border with Abkhazia, however we can't say whether this blast is connected with any activity on the Abkhazian side. Georgian Railway can't make any political statement," said Stepanadze.
Speaking to
The Messenger
, spokesperson for Georgian Interior Ministry Shota Utiashvili stated that the police had no concrete information about the incident yet. "The police are working on their investigation, however we are not ready to release any results," said Utiashvili on June 2.
The de facto authorities of Georgian separatist region Abkhazia have already denied any involvement in this incident. "There is a struggle for power in Georgia, the situation in unstable there and this terrorist action should be seen in the context of the railway blockades," stated Ruslan Kishmaria, the so-called representatives of the separatist leader in the Gali region of Abkhazia. "The Georgian authorities have said that this was done by some third force but in reality these sort of incidents are created by themselves in order to give them an excuse to blame some external forces," stated Kishmaria, as quoted by Russian news agency Interfax on June 2.
Kishmaria was referring to the Georgian opposition rally on May 27 at Tbilisi Central Railway Station in which hundreds of opposition activists blocked the railway, hindering the movement of passenger trains. Some opposition leaders also threatened to block Tbilisi International Airport and highways near the capital, demanding the resignation of the President. "There are people who say "we should block ports, airports, roads, because we want the seats of power," Saakashvili said on May 19. "I will do everything to ensure that no one ever blocks roads or railways in Georgia and causes suffering to the people."