6th Gathering in Istanbul
By Messenger Staff
Thursday, June 4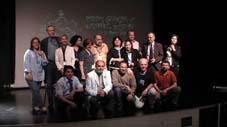 The sixth Gathering for Freedom of Expression was held on May 22-24 in Istanbul. This year's theme was freedom of expression under the threat of discrimination and armed conflict, and the regional focus was on the Black Sea economic cooperation countries. The venue was BILGI University.
Representatives of more than dozen countries and international organisations such as Amnesty International, Human Rights Watch, International PEN and the International Publishers Association attended the event. Participants from Albania, Armenia, Azerbaijan, Bulgaria, Georgia, Moldova, Romania, Russia, Turkey and Ukraine presented a view of the situation in their countries. Academics from Turkey, Professor Doctor Turgut Tarhanli, Ibrahim Kaboglu, Iaman Akdenis and Asuman Incemoglu participated.
Retired Ambassador Murat Sungar addressed the conference. It was very important that at the first day of session some victims of human rights abuse personally addressed the audience describing their cases.
Professor Zaza Gachechiladze, Editor-in-Chief of
The Messenger
, participated in the conference to share his views on freedom of expression in Georgia. He evaluated the activities and importance of the gathering highly and expressed his appreciation and gratitude to the organizers of the event, Sanar Yurdadapan, Elvan Og and others, who had contributed to the successful organisation of this very important meeting.
The first Freedom of Expression gathering was held in Istanbul in 1997 and it has increased in popularity and importance ever since.