Maestro demands to be seen and heard
By Sopo Datishvili
Monday, June 8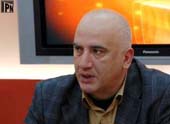 The Georgian National Communications Commission (GNCC) postponed its session and public hearing on June 5 at which giving Maestro TV a special satellite broadcasting licence was to have been discussed. GNCC explains on its official website that this was due to the absence of a quorum.
Also on June 5 the Director of Maestro, Mamuka Ghlonti, arranged a briefing at which he said that the GNCC is a puppet of the Government and was applying direct pressure on the TV channel. "We asked them for a totally different licence to the one we possess at present. This would enable us to broadcast throughout Georgia, and even Europe, via special satellite dishes. The GNCC will probably discuss this issue next week, as the last session was postponed," he said.
Ghlonti also said that some local regional services have stopped transmitting Maestro programmes. The first to do so was in Rustavi. On June 4 leaders of the radical opposition arranged meeting in Rustavi at Shartava Avenue, where they demanded in person that these broadcasts be reinstated. Ghlonti, who was also present at that meeting, said that the local TV service Tori had stopped these transmissions deliberately. He called on the citizens of Rustavi not to pay for their Tori service, as this would make the company reinstate the Maestro programmes. "If we let them to block us in Rustavi, we won't be allowed to broadcast in other regions either," he added.
At present Maestro programmes are being blocked in Rustavi, Akhmeta, Ozurgeti and Kutaisi. "Transmission in these places was stopped by local broadcasters which are under Government pressure. The Director of the Akhmeta TV service isn't answering my calls. As for Ozurgeti and Kutaisi, they stopped transmission and then restored it, but only for a while. Now they have turned us off again," said Mamuka Ghlonti.
The channel has received great support from opposition leaders. The New Rights leader Davit Gamkrelidze said at the meeting in Rustavi that the next visit of the opposition to Kvemo Kartli would be to the building of the Regional Administration unless Maestro transmissions were renewed immediately.
TV Maestro fought long and hard to be granted a licence for political programming. It finally gained one last October, when on Parliamentary instruction the GNCC modified its previous licence to enable it to show such programmes. The ambitions of the channel have since grown further, as the request for a satellite broadcasting licence indicates. But before Maestro can be accessed by satellite dish, the citizens of Rustavi, Akhmeta, Ozurgeti and Kutaisi will have to wait for the reinstatement of its terrestrial broadcasts on their local TV channels.