Saakashvili forces sick girl back to hospital
By Etuna Tsotniashvili
Wednesday, June 10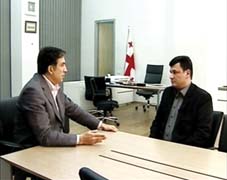 On the Georgian President's insistence 4-year-old Ina Tsarelashvili, who required a blood transfusion after sustaining burns, was returned to hospital late last night.
Ina's parents are Jehovah's Witnesses and had initially refused to allow doctors to perform a blood transfusion as it was against their religious beliefs. Having been told that their daughter needed a transfusion they discharged her after signing a form freeing doctors from responsibility. However under President Saakashvili's special order the girl was returned to hospital by the police.
The President became personally involved in this case on June 8 and at a meeting with Health Minister Sandro Kvitashvili categorically demanded that the child be returned to hospital in spite of her parents' refusal.
"Are we the state or simply helpless observers? No matter how the law is interpreted by various people, to save the life of a person, especially a little child, is more important than their [her parents'] religious beliefs, or, let's say it directly, their whims and absolute unawareness and also more important than any regulation. I categorically demand that this child is returned to hospital within the next few hours. I instruct the Police and Prosecutor's Office to intervene and to bring this child [back to hospital] by force if other methods do not work," Saakashvili states on televised footage, adding that the state should never allow another situation to arise in which it is possible to save a person's life but doctors, the law and state agencies are powerless to do it.
"This is absolutely unimaginable. Act immediately. I am not interested in the opinions of her parents or anything else. Go, bring her back and save her. Then the conduct of such parents should be discussed separately by the court," the President told Kvitashvili.
The Minister of Health explained the 30% of the girl's body has been burnt by boiling water and fire, adding that the child needed to be under permanent observation. According to Doctor Khatuna Japaridze, who is treating her, the child's condition is still critical and had deteriorated since being removed from the hospital. She had a high temperature when she was taken to hospital again.
Yesterday doctors and representative of the Ombudsman met the Tsarelashvili family and their lawyer. After a three hour discussion they reached a consensus whereby if doctors consider it necessary to give the child blood they will do so.
Archil Talakvadze, an advisor to the Public Defender who was involved in the talks, has told The Messenger that they had recommended to the doctors that they take all necessary measures, including giving blood transfusions, without parental consent if they were vital to save the girl's life. However if the girl's immediate condition is not life-threatening the doctors should address the court on this matter (if the parents are opposed to the actions they propose to take) and the court will take a decision in one day. After this doctors will be able to treat their patient as needed.
Ina's next operation is planned for Friday, June 12, when doctors will transplant skin onto some parts of her face and arms.