Georgian-Estonian business forum is established in Tbilisi
By Messenger Staff
Thursday, June 11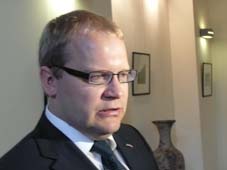 The head of Georgian National Investments Agency, Nino Baratashvili, opened the Georgian-Estonian Business Forum at the TBC Bank head office in Tbilisi on June 10.
At the opening ceremony Georgian Finance Minster Kakha Baindurashvili made a special presentation for Estonian businessmen concerning the business climate and tax issues in Georgia. The Estonian delegation is led by the country's Foreign Minister Urmas Paet. According to Baindurashvili the Estonian delegation is largely comprised of businessmen working in the spheres of infrastructure and communications. "Those spheres are very developed in Estonia today," stated the Minister on June 10, "The profile of Estonian business in Georgia is not so big, but Georgia hopes to raise interest after these meetings," he added.
Speaking to
The Messenger
after the forum, the Estonian Foreign Minister evaluated the potential for Estonian-Georgian business relations as "good". "We have excellent political relations, our societies have a lot of sympathy for each other and there also is an increasing interest among the business communities," stated Paet. The Minister also spoke about ways to develop the interest of Estonian businessmen in Georgia. "What the Government can do is sign a [bilateral] agreement on the protection of investments, and we hope that both we and the Georgian Government will do so by the end of this year, as we have already signed the agreement on the avoidance of double taxation." Georgia is a rather good place to invest money, considers the Estonian Minister, mentioning however that the Georgian Government should "implement additional reforms" and "increase internal stability" in the country. Dialogue with the opposition would be one of the ways to make Georgia appear more attractive economically, considers Paet. "The dialogue you now have on the streets should start taking place in Parliament," he stated.
On June 9 the Georgian and Estonian Foreign Ministers signed the "Charter on Strengthening of the Political Dialogue and Cooperation between Georgia and Estonia." Under the terms of this document, countries will "hold regular consultations in areas of mutual interest, in particular, defence and security policy, economic, trade and energy, people-to-people, educational, scientific and cultural exchanges."