Three explosions in Zugdidi
By Temuri Kiguradze
Friday, June 12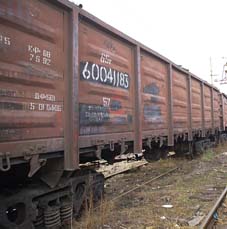 One man was injured in an explosion in the Western Georgian town of Zugdidi late on June 10, which was followed by two smaller ones the following morning.
The explosion that caused the injury occurred at Zugdidi railway station. It was caused by a bomb planted in a cargo wagon, whose roof was destroyed by the force of the blast. The injured man is a 58-year old Georgian Railway technician, who was taken to Zugdidi hospital in a serious condition. The second explosion was caused by an explosive device in a litter bin at the same station, the third taking place in a vehicle parked near Zugdidi central police station. The two smaller blasts did not cause any reported injuries.
"The first bomb used 8 kilogrammes of TNT as its explosive material, the other two were smaller, with 500 grammes of TNT in each," stated Shota Utiashvili a Ministry of the Interior spokesman, speaking to The Messenger on June 11. Utiashvili stated that the police have no official explanation of the incident at this time and he was not ready to discuss any possible connection between these blasts and explosions on the railway itself on June 2. "Those explosions were caused by people who don't want to see peace and stability in the [Samegrelo] region," says an official statement from the Interior Ministry published on June 11.
The Head of Western Georgia's Railway Department, Zurab Gogokhia, has stated that specialists were working all night long at the site of the explosions searching for other possible threats and repairing the railway track. He also noted that police dog teams had been called in to help investigate the incidents. "They have already finished their work and the Tbilisi-Zugdidi train has already left the town," said Gogokhia, speaking to Georgian journalists after the incident.
The Georgian media has reported that a local resident has been questioned. He remembered two men asking him for directions to the road leading to Georgian breakaway region Abkhazia soon after the explosion. According to the police the questioned man has been already released. Zugdidi law enforcers have been put on red alert, but local residents say that everything is calm in the town now.
Zugdidi is the biggest town in the Georgian region of Samegrelo and is located near the administrative border with breakaway Abkhazia. On June 2, twelve metres of railway track were destroyed by an explosion in the same region; this was described as "obvious subversion." "It's true that the blast occurred near the administrative border with Abkhazia, however we can't say whether this blast is connected with any activity on the Abkhazian side. Georgian Railway can't make any political statement," said a representative of Georgian Railway, commenting on the incident.
Soon after the explosion the Abkhazian de facto authorities denied any connection with the incident, calling it the "result of the internal political struggle" in Georgia.