Belarus ignores Russian backed military summit
By Temuri Kiguradze
Monday, June 15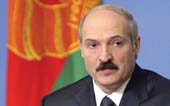 Minsk refused to participate in the scheduled Collective Security Treaty Organization (CSTO) session in Moscow on June 14, saying its "milk war" with Russia had given it reason to suspend its participation in agreements it has signed as a member of this Russian-backed military bloc. CSTO members were due to sign an agreement on the creation of a joint military force, involving troops of the national armies of all member countries, but as Belarus did not participate in the session signing this agreement has been postponed.
At the beginning of June Moscow banned the import of over 1,000 types of Belarus milk product. This action, called the "milk war" by the media, could create significant problems for the Belarus economy, according to its Government. The Kremlin explained that the ban had been imposed because Belarus products lacked proper certification. "This is not a political action, this is protecting the health of Russian consumers," Russian Foreign Minister Sergey Lavrov said in Moscow last week.
On June 13 Minsk officially accused Russia of "direct economic discrimination" against Belarus. "The economic security of CSTO countries is part of their collective security. Without resolving unhealthy trends in the economic sphere it's senseless for the Belarus President to participate in the summit." Commenting on this refusal Sergey Lavrov called it "unclear." "It's wrong to connect economic problems with issues of political and military security," he said on Sunday, adding that the summit go ahead regardless.
Some political experts consider the "milk war" to be Russia's punishment of Belarus for seeking active cooperation with the West. The same tactics were used in 2006 when Moscow banned the import of Georgian and Moldavian wine and mineral water. "Why are you trying to deal with this Russia that kicks you away? Don't you understand that they want to take us for free? If we are not successful in Russia we have to go other places where we are welcome. We have to search for our destiny in other parts of the planet," Belarusian President Alexander Lukashenko told his Ministers on May 29. He added that Russia was putting pressure on him to try and make Belarus recognise the independence of the Georgian breakaway regions of Abkhazia and South Ossetia. "They [Russian officials] came here and told us: if you give us [the recognition of] Abkhazia and South Ossetia you will get USD 500 million. But you know, we don't want to "sell" any questions or positions," stated Lukashenko in early June, commenting on Russian financial aid scheduled to be transferred to the republic.
Sergey Markov, the head of the Russian Institute for Political Researches, considers Belarus' decision to ignore the Moscow summit to be "blackmail". "Lukashenko is blackmailing the Kremlin by freezing his military-political cooperation to get more economic preferences," he says. Markov adds that the integration of Belarus with Russia is beneficial for both countries for economic reasons and because of "the will of the Russian and Belarus people to live together." "Belarus doesn't have many possibilities to develop relations with the West, to give it something in return for antagonising Russia," concluded Markov, as quoted by Russian news agency
Interfax
on June 14. Another Russian political expert, Dmitry Orlov, states that Lukashenko's actions will be "harmful" for Belarus. "Lukashenko's decision is a mistake and it's dangerous for Belarus even more than for other CSTO states," he said.
"We are becoming witnesses to a very interesting process. Belarus, one of most loyal Russian allies, is trying to leave its sphere of influence," states Zurab Abashidze, a former Georgian Ambassador to the Russian Federation. "Of course it's not only milk involved here, it's a complex of decisions and demands. I think the main reason for Minsk's actions is the issuing of demands by Moscow, and recognition of Abkhazia and South Ossetia is one of the most important factors in their relationship," said Abashidze, speaking to
The Messenger
on Sunday. The expert added that it is "significant" that Russia is unable to maintain good relations even with such traditional allies as Belarus.
CSTO was established in 2002, a union of the seven former USSR republics of Armenia, Belarus, Kazakhstan, Kyrgyzstan, Russia, Tajikistan and Uzbekistan, established "to strengthen peace and international and regional security and stability and to ensure the collective defence of the independence, territorial integrity and sovereignty of the member states, in the attainment of which the member states shall give priority to political measures." In early 2008, Russia announced that CSTO would create its own rapid reaction military force that according to Russian President Dmitry Medvedev would be "just as good as comparable NATO forces."