Once more protestors assaulted in central Tbilisi
By Etuna Tsotniashvili
Tuesday, June 16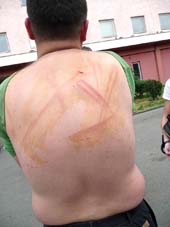 Pro-opposition youth groups were attacked by masked police with batons while holding a rally in front of Tbilisi Police Headquarters on June 15. Several witnesses stated that the rally participants were assaulted and beaten by the law enforcers in an organised operation.
Soon after the incident the Interior Ministry released a special statement saying that "Representatives of opposition parties blocked the main entrance to the Tbilisi Police Main Division Headquarters and hindered traffic movement. The demonstrators did not obey police instructions and showed physical resistance to the officers who attempted to unblock the entrance and restore the traffic flow. Law enforcers detained participants of the rally for resisting the police and the detainees have been transferred to temporary detention."
Later the Ministry declared that 39 persons had been detained as a result of the incident, most of whom will be released after paying a fine while others will be subject to administrative punishment which could involve imprisonment for 25-30 days. The Ministry also stated that although protesters were blocking the street outside the Tbilisi police headquarters, this would not in itself have become a reason for dispersing the rally. Police only decided to intervene after they identified among the protesters three persons wanted by the police in connection with the June 12 incident outside Parliament. When the police tried to arrest these individuals other protestors resisted and thus a clash developed.
The young protestors have claimed that they went to the police building to protest against their friends' detention after the June 12 incident in front of Parliament and demand their release but police officers attacked them and started beating them. It has been reported that two opposition leaders, Davit Gamkrelidze and Zurab Abashidze from the Alliance for Georgia, were at the scene when this took place. Abashidze was himself beaten by the police and taken to hospital immediately. Doctors later stated that he has concussion.
Davit Gamkrelidze, who saw Abashidze being assaulted, told journalists that this was the worst act of brutality he has ever seen and demanded that foreign diplomats react appropriately. He especially asked the French and US Ambassadors to condemn this violation, adding that their statements on June 12, in which they had officially condemned opposition activists' attacks on MPs and the Chair of Parliament, had encouraged Saakashvili and Merabishvili to commit this crime. Leader of the Democratic Movement-United Georgia Nino Burjanadze stated that the authorities had done the same things they did on November 7, 2007 when they cracked down on peaceful protestors on Rustaveli Avenue. "There was no necessity to disperse the protestors today as their protest was peaceful. The more silly things like this the Government does, the quicker they will be out of office," Burjanadze said yesterday.
Police officers at the scene also assaulted some journalists, and as a result of their seizure of cameras belonging to Tbilisi-based TV stations Kavkasia and Maestro (considered to be pro-opposition) those two companies had to suspend their broadcasts temporarily. Their managements have not given a date on which they will resume broadcasting. "In protest against the violence against our journalists at the Tbilisi police headquarters today, Maestro TV and Kavkasia TV have ceased broadcasting," said a caption which appeared on the screen when viewers turned to these channels. Director-General of Maestro TV Mamuka Ghlonti said that this decision had been made by mutual agreement, adding that they didn't have any option because their journalists were no longer able to work as normal. Deputy Minister of the Interior Eka Zghuladze later held a special briefing and apologised for the seizure, saying this was a police mistake and the cameras would be returned to their owners.
While this was happening Leader of the Way of Georgia Salome Zourabichvili was saying on the Imedi TV programme Chronicle of the Day that she was ready to accept Saakashvili's offer and become First Deputy of Minister of Interior Vano Merabishvili immediately.
"The President officially offered this position, right? So I accept this challenge. Tomorrow morning I will go to the Interior Ministry and see what I will be allowed to do. Although there should first be a guarantee that this is not just a PR stunt I will do my duty to the best of my ability. I need to have the authority of First Deputy Minister to start an investigation into the assaults at the protests and I will start it from tomorrow. I will release our young activists, who are being held in I don't know what conditions," Zourabichvili said yesterday.
Earlier on June 15 the cells on Ingorokva Street near the State Chancellery were forcibly removed and their occupants were assaulted. Five protestors were hospitalised. One of the injured, Levan Talabadze, said that they were attacked just after midday by several dozen people with iron clubs. He said that the attackers were security and riot police and he could recognise them if he saw them again.
Talabadze denied that ordinary citizens had destroyed the cells, saying that passers-by had helped the protestors and that ordinary citizens had been the ones to rescue them from further attacks. Another protestor, Erekle Tsotsnidze, confirmed that the attackers were armed with iron clubs and had severely beaten the protestors. "They had guns, although they didn't use them," he stated.
Koba Davitashvili, leader of the People's Party, asked the Czech and US Ambassadors whether they condemn violence in general. The Patrol Police of the Ministry of Interior launched an investigation into the Ingorokva Street incident and two persons were detained and interrogated.