Georgia denies pushing back state border
By Temuri Kiguradze
Tuesday, June 16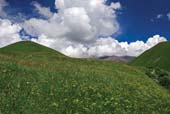 The Georgian Interior Ministry has denied reports that it has moved the Georgian-Russian border 20 kilometres back into Georgian territory.
The opposition New Rights Party has accused Georgian border guards of abandoning their positions in the Oni district on the Russian-Georgian state border in early June. "People in military uniforms blew up the bridge on the Chanchakhi River on June 10. This is 20 kilometres from the [Russian-Georgian] border, now they [border guards] have comfortably relocated themselves in the village of Glola. As a result of this action the only way to reach the border in this region was destroyed and 20 kilometres of our territory was lost; if Russian soldiers have not occupied it yet they soon will," stated David Saganelidze, a party representative, speaking in Tbilisi on June 12. Saganelidze added that Russian soldiers had already entered the building of the former meteorological station which he said used to serve as the block post for Georgian servicemen here.
Deputy Head of the Georgian Border Police Koba Bochorishvili has denied Georgian troops were withdrawn to "comfortable locations." "Patrolling takes place on the Russian-Georgian border and not in a resort village. The situation at the border is the same as it has been in recent years and nothing special is happening there. Neither side has entered the meteorological centre, the border guards are just patrolling this area as before," Bochorishvili told Georgian journalists on June 14.
The regional authorities of the Oni district have confirmed that the bridge has been blown up but not given any reason for this. A special statement by the Interior Ministry published on Monday denies that the Georgian state border has been moved. "False information on the situation in the Oni district near the Russian-Georgian border has been spread recently. Units of the Georgian border police fully control the mentioned part of the border as well as the so-called administrative border with South Ossetia," says the statement, adding that the Ministry appeals to everyone to refrain from "spreading unconfirmed reports and causing panic in the population."
The Georgian Foreign Ministry has also commented on the reports, saying that Georgian border guards are still controlling the border all the way up to the Mamisoni Ridge. "The border has not been moved and if this happens Georgia will take all measures to stop it," the Ministry said.