Government misses Zourabichvili's deadline
By Mzia Kupunia
Wednesday, June 17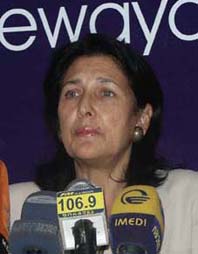 The Government failed to meet the deadline given by one of the "radical" opposition leaders, Salome Zourabichvili, for appointing her as a Deputy Interior Minister of Georgia. On June 15 Zourabichvili agreed to the President's proposal of a week ago to appoint prominent opposition leaders to "key positions" in the Georgian Government. The leader of the Way of Georgia, once Foreign Minister under Saakashvili, had said she was ready to take the position of Deputy Interior Minister.
Saakashvili welcomed her decision on Monday, saying "If this statement was made seriously, then I will support it with pleasure, despite the negative reaction from many of my colleagues." Despite the President's statements, some ruling party members nevertheless expressed their discontent with Zourabichvili's candidacy. National Movement MP David Darchiashvili said on June 15 that he did not consider Zourabichvili a "competent candidate" for Deputy Interior Minister due to her "internal temperament."
The next day other National Movement members commented on Zourabichvili's possible appointment to the key position. MPs said she misunderstood the sense of the President's proposal. MP Pavle Kublashvili said that being appointed Deputy Interior Minister means taking on responsibilities. "If Zourabichvili is intending to work in the Ministry during the day and then in the evening declare victoriously that the MIA is by their [the people's] side, it will further aggravate the present situation. We can't give her right to do this," Kublashvili told journalists. "If the opposition politicians really want to take part in governance and to take responsibility for the staff of any Ministry, they will have this chance, but to use this opportunity to fuel tensions is irresponsible," he added.
MP Goka Gabashvili said the Government's proposal will come into force provided an agreement is reached with the "radical wing" on a schedule of actions. "Our proposal will be activated if the opposition reacts positively to our other proposals too and stops splitting society. If these aggressive rallies and confrontational speeches and divisive continue, appointing radical opposition representatives to Government posts is impossible," he said.
"Radical" opposition politicians have hailed Zourabichvili's decision, despite the fact it was not agreed with opposition leaders, describing it as a "very hard one". Some said Zourabichvili's proposal was a way to put Saakashvili's commitments to the test. Co-leader of the Conservative Party Zviad Dzidziguri noted that Saakashvili had "lied". "Zourabichvili's statement about agreeing to take a post is a good opportunity to test the proposal of the President. It will show how real this was. I am sure that Zourabichvili will not become the Deputy Interior Minister and it will turn out that the Government's proposal was a lie. If she becomes First Deputy Interior Minister, I am sure she will start investigating the criminal acts which have taken place in the MIA in recent times," Dzidziguri said.
Despite the Government's failure to meet the deadline set by Zourabichvili – 6 pm on Tuesday, Zourabichvili later said she was still waiting for a statement from the Government about her appointment. Speaking to demonstrators in front of Parliament, Zourabichvili said that the post of Deputy Interior Minister was a "serious position" from which she could "save the country." Zourabichvili said her proposal was serious. "If Saakashvili's words have any value, the relevant decision should be taken by all means. I don't know if his proposal was serious or not, but my response was definitely serious. I have heard the MPs' comments, I am not going to betray my principles," Zourabichvili noted.
The non-Parliamentary opposition have said Saakashvili failed to pass the test prepared by Zourabichvili. Tina Khidasheli from the Republican Party said she had been expecting such an outcome. "When President made the proposal he did not specify any requirements or preconditions. The Government should first talk to a candidate about her plans and way of working and make statements afterwards," Khidasheli told The Messenger. "Saakashvili thought the opposition would decline his proposal, and then he would tell the international community that he is making offers but the opposition are rejecting them, however he failed to achieve his goal this time," Tina Khidasheli said.
Political commentators agree with this analysis. Giorgi Khutsishvili has said the administration was counting on the opposition rejecting the proposal. "As soon as this did not happen, they began to make strange statements. I think it was obvious to the Government that after being appointed the opposition leader would not say she is quitting the opposition and becoming a Government member. I think Saakashvili did not mean what he said when he made his proposal. If the President does not meet his commitments, he will lose a lot of points, and Salome Zourabichvili will gain a lot," Khutsishvili told
The Messenger
.
At the time of going to print Zourabichvili had still not received any notification from the Government confirming or denying her appointment as First Deputy Interior Minister.