Karvasla shopping mall directors meet the owners
By Messenger Staff
Monday, June 22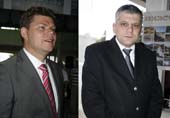 On June 16 a meeting with the owners of units at the Karvasla shopping mall, which is currently being constructed, was held at the site of the new facility in Tbilisi. Kakha Khazaradze, the Director of Karvasla Mall, which is due to be built by the end of November 2009, said that the Directors of the company periodically meet the owners to inform them about the progress being made.
"It is one of these meetings we are holding today," Khazaradze said. "We will present our future plans, information about when we are going to finish building and what issues need to be discussed. We have had some problems due to the world financial crisis but have now received funding through the help of our Dutch partners and have resolved them," he added.
Khazaradze said that construction was due to end by May 2009 but had been delayed because of financial problems. Khazaradze said 50 percent of the mall space has already been sold.
Maurice Roetgering, the Director of Dutch company Karvasla BV, holds 50 percent of the shares in this project. "We have experience of running shopping malls and we are going to bring this knowledge here. We are going to bring international brands to Karvasla, it will be the first and biggest international standard shopping mall in Georgia. We hope the project will be successful and we are happy to be here in Georgia," Roetgering said.
One of the owners of a unit in Karvasla, Giorgi Mataradze, stated he was happy that despite the crisis and war construction had not stopped. "When I bought my space there was no financial crisis, but it is good that despite the crisis construction continues and this gives us some hope. I am not sure what I am going to do with my space, I may rent it out or start my own business here," Mataradze noted.
The eight-storey Karvasla shopping mall will contain 400 trading units, including shops, a hypermarket, beauty salons, creches, cafes and restaurants. It will occupy 18,286 square metres.