Opposition rejects President's new proposal
By Mzia Kupunia
Monday, June 22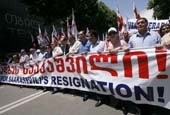 The President said nothing new and his words demonstrated that the Government is close to its end, "radical" opposition leaders said in response to Georgian President Mikheil Saakashvili's interview on the
Rustavi 2
talk show
Position
late on Friday. "This was not the appeal of a real President. The Government does not know what to do with the country and the crisis. The only argument it has left is that the country was in a worse condition in the past," leader of the Way of Georgia Party, Salome Zourabichvili said adding that the "President is locked in himself."
Some other "radical" leaders have called Saakashvili's statements "nonsense" and "fairy tales" and said the rallies will continue. Former Presidential candidate and outspoken opposition leader Levan Gachechiladze said one more "big rally" will be held in Tbilisi, where "over 1 million people will protest against the existing regime." Gachechiladze noted that he had travelled abroad to "get money", as "a big movement, big force and big infrastructure need big money."
Opposition leaders also criticized the President's proposal to the politicians who refused to enter Parliament after the May 12, 2008 Parliamentary elections. David Gamkrelidze from the New Rights said Saakashvili's proposal was "unrealistic". Speaking at a special press briefing on Saturday, Gamkrelidze stated "I don't understand how David Saganelidze and I can return to Parliament. Should we kick out the people who won the bye-elections held to replace us? Or maybe they are going to change the Constitution because of us? This proposal is as unrealistic and impossible to understand as previous ones." "It is becoming more and more complicated to comment on the President's initiatives," Republican Party leader David Usupashvili said. "We knew that he thought he had Parliament in his pocket and could kick out anyone he wanted, however now he is saying this out loud," Usupashvili added.
Zviad Dzidziguri from the Conservative Party also rejected the President's proposal, saying that it is up to the people to decide who should enter Parliament and who should not. "We rejected our mandates in 2008 consciously and our position has not changed. I am sure it was a right step," Dzidziguri said.
"It's time that everyone reviewed their actions," President Saakashvili had said on Friday "There is a feeling of protest in every country. When someone who has lost their job is angry, I understand him, but when a group of politicians start taking radical actions, the aim of which is to make life more complicated, this can't force the Government to resign," Saakashvili stated. He advised the opposition, which has been rallying outside Parliament for more that two months demanding his resignation, to "join the train that is our country by holding dialogue," adding that "the sooner the opposition gets involved in the process, the more comfortable it will be for them."
Saakashvili suggested that the opposition politicians who had refused to enter the Parliament in 2008 should return, saying that it was mathematically impossible to have rigged the results of the 2008 Parliamentary elections. "If they wish, let's amend the law as part of the agreement to allow those who refused to take seats in Parliament to return and take those seats. They [opposition] tore up their mandates because they wanted to turn everything upside down at the first possible chance and enter Parliament through the back door," he stated. 11 opposition politicians refused to take their seats after being elected in 2008 in protest at the alleged falsification of those elections. Bye-elections were held later in order to fill these vacant seats in the Georgian Parliament.
Concerning his previous proposal to appoint opposition leaders to key positions in Georgian Ministries, Saakashvili said the offer was still in force but should not be perceived as implying that an opposition politician could serve as Deputy Interior Minister and at the same time participate in the demonstrations. The President ruled out calling early Presidential or Parliamentary elections. He said pre-term local elections might be held next spring.
Unlike the "radical" opposition leaders, some analysts have said the opposition is becoming more "unrealistic" than the President. Political commentator Soso Tsintsadze has said the street protests have brought no results. He noted that some of the non-Parliamentary opposition leaders have even mentioned the world "failure" in private conversations. "Politics is not about rhetoric, it is about results, and in this case we can see that the opposition's actions have brought none," Tsintsadze stated, adding that the absolute truth is not with any of the sides, "it's somewhere in between."
"It would be better if the opposition starts getting ready for the elections, no matter when they will be held and which elections they are. The National Forum has already started its campaign in the regions, and others should follow suit because the impetus of the street protests has already gone," Tsintsadze told
The Messenger
.