Georgia needs more support than all the European countries put together, Adamkus says
By Etuna Tsotniashvili
Wednesday, June 24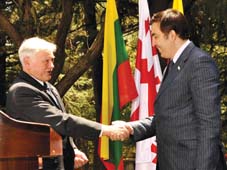 Lithuanian President Valdas Adamkus, who paid a one day official visit to Georgia yesterday, has stated that today Georgia needs more support than all the other European countries put together. Adamkus made this statement at the official opening of Vilnius Square in Mtatsminda.
"We remember very well that 1/5 of Georgian territory is occupied and Georgia still faces a big threat," Adamkus stated, while thanking the Georgian people for establishing the Vilnius Square, adding that he hoped cooperation between the two countries would deepen in future. "I would like to wish the Georgian people independence, peace and integration in Euro-Atlantic structures," Adamkus concluded.
Georgian President Saakashvili expressed his gratitude to the Lithuanian people and their President and recalled that during the war last August demonstrations in support of Georgia had been held in Vilnius. "Today we are not only opening a square, we are honouring the President of Lithuania, Valdas Adamkus. We have much in common. Lithuania and Georgia were holding national liberation flags during the Soviet era," Saakashvili said. "Our guest is a person, who has fought against Communism and the occupier now encamped on our land his entire life," President Saakashvili said at the ceremony.
Saakashvili said that last August, when 80,000 Russian soldiers, 2,000 military vehicles and 200 planes intruded into Georgia, people rallied in the centre of Tbilisi. But they were not attending a concert, as some have said. "It was a challenge to the world, in which Georgia made the world see that we will never tolerate losing our territory. We are still fighting. Our territories are occupied but we are not going to give an inch of our land to anybody," the President said.
"Georgia, together with its friends, will continue its struggle for full de-occupation and for the eventual strengthening and cementing of our freedom and independence," he said, and thanked Lithuania for its strong support for Georgia, especially during the August war. He decorated Valdas Adamkus with the Vakhtang Gorgasali Order at the end of the ceremony.
Adamkus arrived in Tbilisi late on June 22. Yesterday he visited Tbilisi City Hall where he was hosted by the Tbilisi Vice Mayor, Mamuka Akhvlediani, and attended the opening of a Lithuanian language course initiated by the Lithuanian Embassy in Georgia.