YouTube video sparks discussion in Georgia
By Mzia Kupunia
Thursday, June 25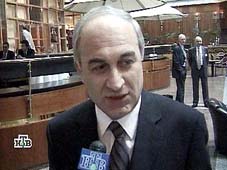 Georgian officials have claimed that doubts about the "radical" opposition's "close links" with Russian oligarch money have been confirmed. This statement was made after Imedi TV aired a report about video footage posted on popular video-sharing website YouTube on June 24, allegedly showing Georgian opposition leaders Levan Gachechiladze and David Gamkrelidze meeting Kakha Targamadze, a former Interior Minister under Shevardnadze. A comment appended to the video says the meeting took place in Berlin and includes episodes shot from June 15 to June 18.
Kakha Targamadze, a close ally of ex-President Eduard Shevardnadze, resigned from his post in 2001 following mass protests after the Ministry of Internal Affairs raided Rustavi 2 TV trying to get hold of some financial documents. Targamadze, who was allegedly involved in criminal activities in Georgia, has Russian citizenship and lives in Moscow.
Ruling party MPs have said the footage confirms the "criminal links" between Georgian opposition politicians and Russian special agencies. "Now it's clear why Gachechiladze and other opposition leaders are trying to hide where they are getting their money from," MP Goka Gabashvili said, "Today the opposition leaders look like swindlers caught in the act," he added.
Gachechiladze and Gamkrelidze have confirmed meeting the controversial ex-Interior Minister but denied getting any financial aid from him. "We met Targamadze and talked about many issues, including who was financing Saakashvili before, what kind of contacts the administration members have with Russia and how they are trying to sell Georgia," former Presidential candidate Gachechiladze told journalists on June 24. "I met many more people and discussed the issue of funding with them. Vano Merabishvili (the Georgian Interior Minister) will not be able to obtain footage of these meetings. I will identify the people I met only after they fund me. They are Georgians and foreigners, but no Russians are among them," he added.
New Rights leader David Gamkrelidze said "there is nothing to hide". "I received very interesting information from Targamadze to the effect that Putin is working very actively to maintain Saakashvili's regime, because it is in his interests. This is the reason all Georgian businessmen working in Russia have been forbidden to fund the Georgian opposition," Gamkrelidze stated, adding that the meeting was initiated by Kakha Targamadze himself. He noted he will meet anyone who will give him information about "the criminal activities of Saakashvili and Merabishvili." Kakha Targamadze has also denied allegations he was funding the "radical" opposition, saying that he has no money to finance them with.
Non-Parliamentary opposition members have said there is nothing criminal about Gachechiladze and Gamkrelidze meeting Targamadze. "Kakha Targamadze cannot be a source of finance of the opposition because he is a citizen of Russia," Manana Nachkebia from the New Rights stated. "Getting finance from the Russian citizens is forbidden by law and we will do nothing that is against the law," she added. Co-leader of the Conservative Party Zviad Dzidziguri has also said the meeting with Targamadze was "not a criminal act." "It is up to each politician to decide with whom to meet. The main thing is that no law was violated by the meeting and consequently nobody has committed a crime," he noted.
Some claim the footage posted on YouTube is part of the "conspiracy theory." Viktor Dolidze, a member of the Alliance for Georgia, said the meeting between the former Interior Minister and opposition leaders should not be "politicised". "This material shows no criminal act taking place. It is not factual material and unfortunately it is part of the conspiracy theory according to which the country is being governed. This footage is a continuation of the cascade of videos which prove nothing but give the Government an opportunity to make baseless allegations," Dolidze said.
Another member of the Alliance for Georgia, David Zurabishvili, has said the release of the footage is a PR stunt by the administration. "I don't think it will cause confusion in the public," Zurabishvili noted, adding that the release of the footage will not decrease public opposition to the Government.
Government members have said the moral side of the material posted on YouTube is more important than its legal side. MP Goka Gabashvili noted that the opposition are getting money from the "most dangerous criminal Russian source." "This is an absolute truth and they will have to face that truth," Gabashvili stated "We heard very well why they went there – to get money - and we know that they returned with optimistic promises," he added. State Minister Giorgi Baramidze called the footage "concerning". "These shots might be shocking for many, because very many people sincerely trust the opposition. They are harmful for these politicians' careers, because the footage shows clearly what kind of forces they rely on and how they are trying to gain positions at any price," the Minister noted.
Political analysts say the footage will be not shocking for everyone. Soso Tsiskarishvili, the President of the Experts Club says that if someone is aware of what goes on behind the scenes in politics they will not be so "touched" by the material released on June 24. "It is a big success for the current administration, because for them any shot which will help them draw their own conclusions is a big victory," Tsiskarishvili told
The Messenger
. He said ironically that it can be considered a "big victory" for Georgian intelligence to find out that "Targamadze is not content with the Rose Revolution and the current Government."