The UN will not abandon the South Caucasus
By Etuna Tsotniashvili
Thursday, July 2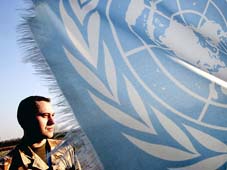 In a statement released on June 30 UN Secretary General Ban Ki-moon reaffirmed that despite the withdrawal of the UN Observer Mission in Georgia (UNOMIG) "the world body will remain engaged in the region."
Ban Ki-moon said that the UN is ready to continue undertaking its other key work in the region. He also highlighted that his special representative Johan Verbeke has already been informed of this and asked to "continue to represent the United Nations at the ongoing Geneva international discussions on security and stability and on the return of internally displaced persons and refugees."
In his statement, released through a spokesman, Ban Ki-Moon declared that "the Mission has contributed to the overall security of the local population, while cautioning that an agreement on a revised security regime is needed for lasting stability." He also thanked those agencies and individuals who had expressed their readiness to continue supporting the mission until it has fully withdrawn.
UNOMIG ceased functioning after Russia vetoed the extension of its mandate on June 15, stating that "there's no sense in extending it since it's built on old realities." Vitaly Churkin, Russia's Permanent Representative to the UN stated at the Security Council session discussing the extension that the current reality calls for a new security regime on the ground. "Developing a new UN mission mandate would have allowed us to quickly put in place practical cooperation between all interested parties to strengthen security and restore trust… However, our Western partners did not accept this approach," Churkin said on June 15 as Russia vetoed a technical roll-over for the nearly 16-year-old operation.
UNOMIG's area of responsibility in Abkhazia consisted of a demilitarised security zone, a restricted weapons zone, where no heavy weapons could be introduced and the Kodori Valley. It had no jurisdiction in nearby South Ossetia, the scene of fighting last August which pitted Georgia against separatists and their Russian allies.