Georgian democracy challenged
By Messenger Staff
Monday, July 6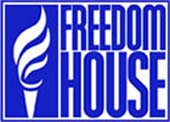 In its recently published report Freedom House said that in 2008 Georgia's democratic performance was its lowest in nine years. Regrettably, according to the report Georgia has dropped out of the list of semi-democratic countries and is low listed as a hybrid regime, together with Ukraine and Bosnia.
Armenia ranks even lower as it is listed among the semi-authoritarian countries. Russia and Azerbaijan are described as authoritarian regimes.
Freedom House says in its conclusion that the so-called colour revolutions in Georgia, Ukraine and Kyrgyzstan have not brought these countries democratic reforms. Freedom House says that the level of democracy in these countries has deteriorated in various spheres such as elections, democratic central governance, media freedom, local democracy and the independence of the court system. 2008 was very difficult overall for former Soviet and Central Asian states, the report says.
Nations in Transit 2009, the latest in an annual series of similar reports, covers 29 former Communist European and Eurasian countries. The countries are ranked against the various indicators on a 1 to 7 scale, with 1 representing the highest level of democratic development and 7 the lowest. According to the survey Georgia's ranking is an average of 4.93 against all indicators. In 2007 it was 4.68 and in 2008 4.79.
The report says that in spite of constitutional guarantees of civil and political rights "Georgia remains a hybrid system in which a Parliament loyal to the President fails to curtail authoritarian tendencies on the part of the executive." Furthermore, "President Saakashvili's failure to address the concerns of the population of the breakaway republics of Abkhazia and South Ossetia enabled Moscow to draw Georgia into a conflict that left hundreds dead, tens of thousands of displaced persons, and ended in Russia's unilateral recognition of the two republics' independence," the report says, adding that because of problems of communication between Government and opposition and unanswered questions concerning the August war with Russia Georgia's rating for democratic governance had worsened from 5.75 (2008) to 6.00 (2009).
The report also touched on the elections situation, stating that "In light of the shortcomings registered by the OSCE during the January Presidential election, and the authorities' failure to remedy some of those failings before the May Parliamentary ballot, the rating for electoral process declines from 4.75 (2008) to 5.25. (2009)."
Concerning the independent media in Georgia, the report says that individual journalists and media outlets are subject to pressure sometimes, and also highlights that the constitutional and legal provisions to free access to information are frequently violated. Georgia's rating for independent media remains at 4.25, the same score as in 2008, but in 2007 the score was 4.