New co-operative kitchen to help Kakheti farmers
By Etuna Tsotniashvili
Tuesday, July 7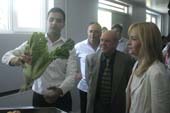 A new brand of jam, sauce and preserved vegetables called Kakheti Garden will be introduced in Georgia soon.
On July 6, a modern cooperative kitchen was officially opened in the village of Kachreti in the Kakheti region. The kitchen provides local farmers with up-to-date technology for washing fruit and vegetables, cleaning jars, cooking, sterilizing, packing and vacuum sealing. With the help of cooperative kitchen small farmers now can easily process their fruit and vegetables and package them ready for sale. This small-scale production facility can process up to 250 kilogrammes of fruit and vegetables daily in a safe working environment which meets modern sanitary standards.
The cooperative kitchen was founded by the UN Development Programme (UNDP) in Georgia with the financial support of the Government of Romania, which allotted USD 130,000 for this project. Currently 83 persons are employed in the new kitchen.
Minister of Agriculture Bakur Kvezereli stated at the opening ceremony that this cooperative kitchen is a pilot programme and expressed his hope that more such kitchens will be established, not only in Kakheti but in other regions of Georgia.
"As you know there are some problems regarding storing and processing the harvest, and that's why a guaranteed place where the harvest will be kept is very important. Guaranteed processing will encourage the farmers to grow more," Kvezereli stated, highlighting that the most important thing is that local production goes to the local market and replaces imported goods so that local entrepreneurs can gain more reward for their labour.
Romanian Ambassador to Georgia HE Dr. Dan Mihai Barliba expressed his satisfaction with the new project and stated that opening such a centre in Kakheti was "a very good idea" which would help to resolve the unemployment problem a bit.
"This project is not simply a factory. A factory is also important, because it gives jobs to people from the region who would otherwise be unemployed, but this project has a very important vocational role. Young people are coming here and learning a lot of professions which are directly relevant to their specific areas, I mean wine, honey, vegetables etcetera. Also experiencing new flowers, plants etcetera they might grow is something nice and very attractive for all of them, and all this is being done to solve the problem of unemployment in this beautiful region," the Ambassador told The Messenger.
The Ambassador said that Romania is not going to stop its assistance here and has will sponsor further interesting and useful projects for the Georgian people together with various international organisations. "I have a special interest in the Kakheti region because I was the Ambassador who established local exchanges between people from the Kakheti region and the Vrancha region in Romania. Their profile is almost the same, they are tourist regions, containing many important Orthodox churches, with agriculture and wine traditions," he said.
Speaking at the opening ceremony in Kachreti Deputy Head of UNDP Inita Paulovica emphasised that this is the first project of this type in past and present CIS countries. "When we were deciding how to approach this issue, we saw that agriculture is a very big sector in Georgia but not all the production can be sold, particularly fruit and vegetables, so we were thinking how we can help the farmers do this. One of our Eastern European regional experts suggested that we undertake this pilot, the first project of its kind in Eastern Europe, of a co-operative kitchen. The farmers bring their fruit and vegetables here and we have the technology and the expertise to help them use the technology to ensure food safety and market and design labels," Paulovica told The Messenger.
Paulovica said that it is important issue to see how this pilot will work and how the farmers will be able to use it, but there are other issues that need to be addressed. The co-operative kitchen is also connected with a vocational school and an agriculture extension centre, so UNDP also wants the school to use the kitchen for training its students. It can also teach best practice in areas such as what kind of technology is the best for preserving fruit. Paulovica also highlighted that one of the preconditions for a comprehensive trade agreement between Georgia and the EU is food safety, and revised food safety laws must be implemented before this can be signed.
Paulovica does not exclude local production being sent to bigger markets in foreign countries, however she says it will take time to see how effective and successful the project will be.
"We need to test how this works. Is there enough interest from the farmers? Can we help them sell at bigger markets? If they are selling only in the region they may not get the best price, so maybe they have to target the capital where people could pay more for their product. I think that there is raw potential for this but we have to think about the marketing, about the packaging and all the certificates that are needed to export production," she said.
Paulovica thinks that local products can also be linked with regional tourism, as a nice jar of jam or compote or whatever would become a very nice souvenir for foreigners or tourists to take home. "Our goal was to show that you can always find ways to change life for the better. I hope this experience can go beyond Kachreti to other villages in Kakheti and in Georgia," she concluded.