Conference on copyright
By Temuri Kiguradze
Wednesday, July 8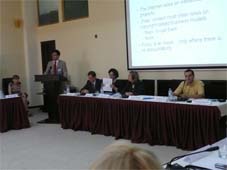 The WIPO-IPA Sub-Regional Seminar On The Role Of The Copyright System In Promoting The Publishing Industry, organised by the World Intellectual Property Organisation and the National Intellectual Property Centre of Georgia in association with the Georgian Publishers and Booksellers Association and the International Publishers Association, took place at the Hotel Old Tbilisi on 4 and 5 July.
The aim of the conference was to help Georgia and other post-Soviet states develop more robust copyright protection systems in line with international standards. It has long been established that there are shortcomings in legislation and practice in this area in post-Soviet states. Representatives from Russia, Ukraine, Bulgaria, Turkey, Lithuania, Poland, Slovakia, Armenia and Azerbaijan also attended the seminar, at which various Western and regional experts bestowed their valuable expertise.
Among the issues discussed were the flexibility of the copyright system, copyright policy and the publishing industry, aspects of buying and selling rights internationally, the role of collective management organisations in copyright protection and developing policies on publishing and access to knowledge. The seminar was a welcome contribution to developing professional practice and creative property protection in Georgia and it is hoped practitioners will gain valuable experience from it.