International Rescue Committee gives IDPs their lives back
By Etuna Tsotniashvili
Wednesday, July 8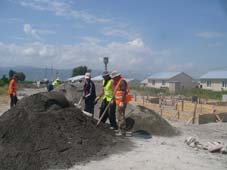 Berbuki is one of the villages where IDPs from South Ossetia were settled after the disastrous August war with Russia. It is situated just 2-3 kilometres from Gori. Currently 134 families and 451 persons live in the newly-built Berbuki settlement, hoping one day to return to their homes.
The IDPs are not without shelters today, but problems occur from time to time, some serious. The newly built houses consist of three rooms: a reception room, two bedrooms and a small kitchen. Outside toilets are built separately. There is no water supply or bathrooms in the new houses.
The International Rescue Committee (IRC) was amongst the first NGOs to respond to a range of the conflict affected population's immediate needs. In December 2008, with IRC/UNHCR assistance, a set of "washing items" was given to each family. The "washing set" included a washbasin big enough to stand in, a plastic jug, a bucket and an immersion heater.
The IRC also provided supplementary water supply "quick-fix" interventions in the new IDP settlements. 800 kits, comprising metal buckets, plastic washstands and soap holders, were procured and distributed to newly resettled families in eight Government-built settlements in Shida Kartli, these being Metekhi, Teliani, Khurvaleti, Shavshvebi, Berbuki, Skra, Mokhisi and Akhalsopeli.
UNHCR, through IRC, began constructing communal baths a month ago which should be finished by September. Two baths will be built in which settlers can have a shower whenever they want. Their size will vary from settlement to settlement and depend on the number of shower points in the bath houses. Each shower compartment will have a changing and washing room of the same size. Half the shower points in a house will be entered from one side and half from the other to allow gender segregation. Changing rooms will be heated by electric heaters. Roofs will be insulated with proper material, e.g. fibreglass sheets. Separate water supply pipes will be installed directly from already existing water tanks.
"We are very grateful to the international organisations, and especially the IRC and UN, who really pay great attention. Now they are building the bathrooms which are so necessary for us. Nowadays we have to wash ourselves at home in big plastic buckets that are really uncomfortable. We hope construction is finished soon," Maia Romelashvili, a mother of three sons, told
The Messenger
.
Maia was pregnant when she and her family fled from Disevi during the war. After several months Giorgi, her third son, was born and he is now 6 months old. He suffers from skull pressure and is now under the permanent control of doctors. Maia says this is because of the stress he endured during her pregnancy.
IRC also addressed the water and sanitation needs of the eight schools in the conflict affected area and five schools in the Berbuki administrative unit, specifically those in Sveneti, Berbuki, Tortiza, Kheltubani and Rekha. Sveneti School had not had water for 10 years and the schoolchildren were catching various diseases. Now they have water all day long, so the children's hygiene is protected.
The IRC rehabilitated the water and sanitation infrastructure of the schools using funds provided by UNICEF and the Dutch foundation SV. Specifically, boreholes were constructed or the school water supply was connected to the existing supply network and water pumps and water reservoirs were installed. Water supply pipes were laid and water is now supplied to hand washing sinks with taps.
IRC Country Director M Peter Leifert says that the IRC's immediate response to the crisis made the IDP's life a little easier.
"Wherever there are IDPs and refugees resulting from human-made and natural disasters we are likely to be first responders and be there, and as we had been in Georgia from 1993 to 2003 it was fairly easy for us to come back last August. Many of the people who work for the IRC here now have worked with us before. They rejoined us when we came back again. So we responded to the crisis straightaway, starting in Gori and Tbilisi at the tented community and collective centres," he said.
Leifert said the US Government's support also involved winterisation as winter got closer. He said that IRC's humanitarian activities are expanding in partnership with UNHCR, UNICEF and SV. IRC organises special hygiene courses for new settlement, collective centre and village children, who have been taught how hygiene should be ensured and what problems a lack of hygiene can cause. Youth Initiative Centres promote better hygiene, healthy lifestyles and youth participation in community affairs.
"We do a lot of hygiene education and hygiene kit distribution. The kits include the materials needed for proper hygiene care for both the community and individuals and families. We have also created child friendly spaces in both the collective centres and the villages the IDPs return to, as returning home does not necessarily resolve the psycho-social problems of children in particular," he said.
"It's not enough to take care of immediate needs. It's important at this particular time to help people get their real lives back, perhaps even a better life than they had before," Leifert told
The Messenger
.