Tbilisi hails Obama's statement on Georgia
By Temuri Kiguradze
Wednesday, July 8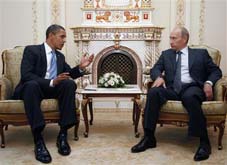 The US President's statement on the necessity of "respecting" Georgia's territorial integrity has been described as "unconditional support" of Georgia by Georgian President Mikheil Saakashvili.
Speaking in Moscow on July 6 at a briefing with his Russian counterpart Dmitry Medvedev the US President noted that he had certain "disagreements" with Medvedev on the Georgia issue and declared that Georgia's "sovereignty and territorial integrity must be respected." On the second day of his visit the US President met Russia's Prime Minister Vladimir Putin, and Georgia was also discussed at this meeting. "State sovereignty must be a cornerstone of international order. Just as all states should have the right to choose their leaders, states must have the right to have borders that are secure, and their own foreign policies. Any system that cedes those rights will lead to anarchy. That is why this principle must apply to all nations - including Georgia and Ukraine," said Obama on July 7.
Saakashvili commented on Obama's remarks from Lithuania, where he is paying an official visit. "In recent months we have been hearing from some people - including some of our own citizens, who are blindly repeating a lie thrown in by Russian propaganda - that Georgia is isolated and has completely lost Western support because of this [Saakashvili-led] Government. But look, the only serious topic named as the major source of disagreement between the United States and Russia was Georgia's territorial integrity, and the United States has unconditionally expressed support [for Georgia] at this very first meeting," said the Georgian President in a televised statement on July 6. He appealed to Georgians to "stand together and don't undermine" the state. "I am also absolutely sure that the democratic world will continue supporting us in this, if we remain wise and if we remain united."
The Foreign Ministry of Georgia also commented on Obama's speech saying that it was "clear and firm support" for Georgia. "President Obama mentioned only a few countries during his speech and one of them was Georgia. Those who still claim that the issue of Georgia has a secondary importance for the United States should pay more attention to Obama's statement," Deputy Georgian Minister Alexander Nalbandov told The Messenger on July 7.
Georgian opposition politicians have hailed Obama's remarks on Georgia as well. "The US and the West have given unconditional support for our territorial integrity and sovereignty and this is the basis for the continuation of the efforts of the international community to start the process of Georgia's deoccupation," said Irakli Alasania, head of the opposition Alliance for Georgia. "I want to thank him [President Obama] and the American people for their support," stated Nino Burjanadze, head of the Democratic Movement – United Georgia. Burjanadze added that it was "a good sign" that the Russian President didn't contradict Obama's speech.
While Georgia talks about the support it is receiving Russia is more concerned about the implementation of the "restart" policy between Moscow and Washington which was announced as soon as Obama took office. Russian President Dmitry Medvedev has stated that he "is pleased" with the results of the negotiations, at which the two countries signed several agreements concerning global security and the reduction of nuclear weapons.
"It's quite hard to use the term "revolution" in Russian-American relations, but we can definitely say that the "restart" has happened already," stated political analyst from the Moscow Carnegie Center Alexei Malashenko, as quoted by the Russian Interfax news agency. Another Russian political expert, Gleb Pavlovsky, also considers that the Obama-Medvedev meeting has brought positive results. "The importance of the ability to make compromises was the principle Obama upheld during his meeting with President Medvedev and he has shown it. Of course that doesn't mean that the US President is going to trade things away through compromises, but Obama understands that he has no other way to build partnership-based relations," stated Pavlovsky on July 7.