MP protests against attack on Church's position
By Messenger Staff
Friday, July 10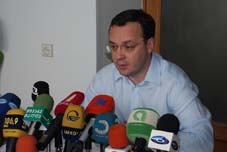 Opposition MP Gia Tsagareishvili is protesting against the draft law on Normative Acts and says this law will reduce the status of the Georgian Patriarchate. Tsagareishvili made this statement on July 9 at a briefing in Parliament. He said that under this new initiative all articles confirming the status of the autocephalous Georgian Church will be annulled. "Every Article referring to the special status of the Georgian Apostolic Autocephalous Church has been abolished in practical terms," Tsagareishvili said.
The MP stated that the amendments will make the Georgian Orthodox Church equal with any other confession and give the state the opportunity to draw up constitutional agreements with other religious confessions. Gia Tsagareishvili stated if the bill is adopted the status of the Georgian Orthodox Church in the Georgian legislative sphere will be upheld only by the 9th Article of the Constitution, though it may be threatened at a later date.
Tsagareishvili called on all Deputies and patriots to protest and urge the rejection of this draft which he says could destroy the country. The draft law is under consideration by the relevant Parliamentary Committee.
Soon after his briefing the Parliamentary majority responded to Tsagareishvili's statement, claiming there was no limit to his fantasy. "The only comment I can make about his statement is that he wants to show himself off on TV, and for this reason has imagined unreal things and made statements about them," MP from the ruling party Murtaz Zodelava said yesterday.