Georgia mourns bus crash victims
By Etuna Tsotniashvili
Wednesday, July 15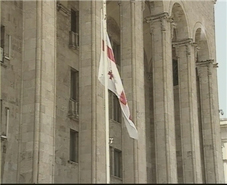 National flags were flown at half mast in Georgia yesterday as the 14 July was declared a day of mourning after the Nakerala Pass incident in which three people tragically died after a bus fell into a ravine. The incident happened on July 13 at about 5 p.m. The bus was full of people, mainly teenagers, traveling from Tbilisi to Lake Shaori, in the Racha region, for a holiday at a patriot camp.
Davit Pirveli and Natia Chkheidze died immediately at the scene and Khatia Kavtiashvili died yesterday after an emergency operation in Kutaisi Hospital, despite the efforts of doctors to save her from serious injuries and traumas. 25 people were on the bus in all, the rest also having slight injuries and being subject to medical care. The driver is in a satisfactory condition and has already been allowed home.
The exact reason for the accident is still not clear. Initially it was reported that the driver was trying to avoid a car on the other side of the road when the bus fell. However the passengers state that a rock fall made the bus topple into a ravine. "Suddenly part of the rockface collapsed and the driver tried to avoid it. This is what made the bus fall into the ravine," passenger Giorgi Kintsurashvili said in hospital.
Deputy Minister of Culture Giorgi Sibashvili excluded that the accident could have been caused by a problem with the bus itself and stated that all buses are checked before they travel and all of them are in good condition. "It seems the rockface collapsed and caused this tragedy, I exclude all other possibilities," Sibashvili said yesterday.
According to Minister of Health Sandro Kvitashvili the passengers' conditions have improved and nine of them have already left the hospital, but a further twelve will be transferred to Tbilisi for further treatment.
President of Georgia Mikheil Saakashvili has expressed his condolences to the families of the crash victims. The state will cover all burial and medical treatment expenses arising from this accident. Tbilisi City Hall will also help the teenager's families. Mamuka Katsarava, head of the Municipal Department of Social Services and Culture, has said that Tbilisi City Hall will allot GEL 10,000 for each damaged family.