The US comments on Medvedev's visit to South Ossetia
By Temuri Kiguradze
Thursday, July 16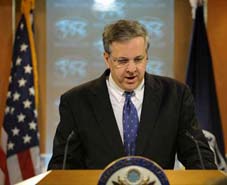 The visit of Russian leader Dmitry Medvedev to South Ossetia was not a "step forward in terms of establishing stability in the region," Ian Kelly, a spokesman for the U.S. Department of State, said on July 14.
Speaking at a briefing in Washington Kelly noted that "the very fact of that visit highlights our [Russia and the US's] fundamental differences" in regard to the situation in Georgia's breakaway regions. "You saw that President Obama reiterated our unwavering support for Georgian territorial integrity. And the United States and our partners in the EU and our allies in NATO have all rejected this recognition of Abkhazia and South Ossetia," Kelly said. "And we continue to urge Russia to respect Georgian sovereignty and territorial integrity, and facilitate stability in the region, participate in the Geneva process, and implement its commitments under the August 12th ceasefire agreement. And we call on all nations to continue to support Georgia's territorial integrity," stated the spokesman.
Dmitry Medvedev made an unannounced visit to South Ossetia on July 13, at which he met the leader of the region's separatist Government Eduard Kokoity and inspected Russian military bases in the region. "I would like to thank you for inviting me to the new state – South Ossetia, which has been created as a result of dramatic events and which was supported by the Russian people in difficult times," Medvedev stated in Tskhinvali. The Georgian authorities reacted sharply to the visit. Georgian President Saakashvili described it as the "most immoral and shameful precedent in centuries" in the history of Russian diplomacy. "It is very immoral, because when the Russian President travelled along the road – I do not know whether he was or was not told about it - he probably passed the deserted settlements which were once home to tens of thousands of ethnic Ossetians and ethnic Georgians, whose houses were bulldozed after Putin's adventure last year. These will form an immoral and shameful spot for any Russian leader today and in future," stated Saakashvili.
"Medvedev's visit to the Tskhinvali region is an obvious challenge to the international community by Russia and one more confirmation that Russia disregards norms and principles of international law and the rules of civilized behaviour established in international relations," says an official statement from the Georgian Foreign Ministry published after the visit. The Ministry appealed to the international community to "spare no efforts to return Russia to legal space, which, first of all, means the implementation of the commitments undertaken by Russia under the six-point ceasefire agreement and the de-occupation of integral parts of territory of Georgia.
"Only the principled position of the international community, which urged and urges Russia to implement its international obligations, will make it possible to prevent destabilisation and an escalation of tensions on the occupied territories of Georgia and in the Caucasus region as a whole, things towards which the Kremlin's policy is directed," concluded the statement.