I would advise businessmen to invest in Georgia, says Aivar Vomm
By Mzia Kupunia
Monday, July 20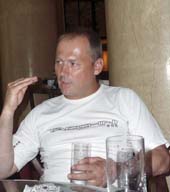 Despite the world financial crisis, the Russian-Georgian war and the political confrontation inside the country, which according to the Government have negatively affected business in Georgia, some businessmen still believe Georgia is a good place to do business.
The Messenger
interviewed the Director of GeoEst Group, Estonian businessman Aivar Vomm, who is among those who decided to stay in Georgia despite the difficulties.
How did you start your business in Georgia?
We started doing business here in Georgia in 2004; however I can say we had two starts, first in 2004, after the Rose Revolution, and the second after the Russian-Georgian war in August, 2008. When we came here in 2004 there was nothing here. I can remember the broken road from the airport to Tbilisi. It was impossible to reach the city without a Jeep. We went to Zugdidi in Western Georgia and started to buy hazelnuts. Later things got better and normal and at one point Georgia was a well-loved country internationally.
Later the war started and the political struggle inside the country followed. Many investors pulled out. The GeoEst Group has invested millions of dollars in Georgia, in hazelnuts and the real estate business. We have two factories in Zugdidi, and one of them has twice won the award for being the best exporter in Georgia, in 2005 and 2007. At this point I am sure that Georgia will go ahead, I believe in the future of Georgia and hope that the misunderstandings inside the country will be resolved through agreement.
I am not a politician, I am a businessman, and the most important thing is to do business, to invest and not to lose my money and the money of my partners. Many Estonian businessmen invested in Georgia after us. I can say that if we had not invested in Georgia when we did, today Estonian investments in this country would be almost zero.
How much exactly have you invested in Georgia?
We have already invested about USD 30 million directly. We have big projects in the real estate field, in Old Tbilisi, Tabakhmela, Saburtalo. Building has become very hard, because the banks have suspended loans, but we have managed to find funds by ourselves and now have invested USD 500,000 in real estate. We have a very important project in the old city close to the Presidential Residence. We are planning to construct an office building there. We have another real estate project in Didube as well.
On which business do you focus more – hazelnuts or real estate?
We highlight on both fields. We have been in the hazelnut business for 15 years already and we are going to continue with it. We are buying hazelnuts from 35 countries around the world and exporting them mostly to European countries. At the same time we are developing our real estate construction business here.
How many local people have you employed in your businesses?
It is hard to estimate the exact number, because people come and go. Some workers are seasonal, some are on a contract basis. I can say that the number of employees ranges from 100 to 200.
You did not pull your money out of Georgia after the war, however, you say you have had some difficulties since then. Why?
Life is like a roller coaster. It can be compared to the life of a couple. There are always some ups and downs. It is the same with business. If we can say today that everything is bad, after a year everything might be fine again. I know that Russia has been trying to spoil the reputation of Georgia, but Georgia wants to be closer to Europe and I am sure business will go up here again. There are so many opportunities in Georgia.
How did the war affect your business?
I would say that the Russian-Georgian conflict affected the hazelnut business more than the real estate business. Our factories are in Zugdidi and when Russian troops entered the town about 80 percent of its population fled. It happened in August, the season of gathering the hazelnut harvest. I would say it was a bad season.
The war did not influence the real estate business so much. However it was affected by the rallies in Tbilisi. People in Europe and the rest of the world said: "They just had a war with Russia, and they are fighting with each other now." This signal was even worse than the war. I visit Georgia quite often and the situation is calmer here, than it seems from the outside. Nothing so horrible is happening, but the signal that goes outside the country is darker. My friends and other businessmen are asking me "are you still doing business there?" and I tell them that the situation is not so terrible here in fact. I believe that if the Government and the opposition reach agreement with each other, everything will advance again.
What would you tell potential investors?
I would suggest that they invest their money in Georgia. There is a saying in the stock markets, though maybe it is a bit exaggerated, that "when there is blood in the streets, it is the right time to invest," because when there is no "blood in the streets", it is already too late to invest, because someone else has already done it. I think that Georgia is a very interesting country with a lot of business opportunities. So I would advise businessmen to invest in Georgia.