EU/UNFPA Opened Youth Reproductive Health Medical-Information Centers in Tbilisi
Wednesday, July 22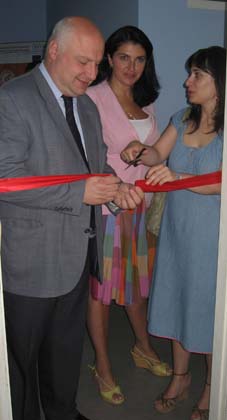 EU/UNFPA Co-funded project "Reproductive Health Initiative For Youth in the South Caucasus"(RHIYC) have conducted National Youth Reproductive Health Forum and opened Youth-Friendly Reproductive Health Medical-Information Centers at Tbilisi Medical- Diagnostic Center N6 and at Medical Center "NEOCLINIC". Opening of Centers is dedicated to 20th World Population Day. This year's theme is a chance to build awareness of the importance of educating youth to a wide range of development issues, including poverty, human rights and gender equality. Youth-friendly reproductive health centers are UNFPA and EU investment for healthy generation in Georgia.
The opening ceremony of Youth Friendly Medical-Information Centers was attended by: Mr. George Tsereteli - Deputy Chairman of the Parliament of Georgia,, Mrs. Tamar Khomasuridze - Assistant Representative, UNFPA Georgia Country Office, Mrs. Nino Kochishvili - Project Manager, EC Delegation to Georgia, and the representatives of local organizations.
The Youth Reproductive Health (RH) Centers will provide young people with free RH counseling, contraceptives, affordable diagnostic and treatment, as well as wide range of information on reproductive health issues.
Mr. George Tsereteli thanked EU and UNFPA for the close collaboration and involvement in the Reproductive Health and Rights implementation in Georgia. He noted that "EU/UNFPA project and Youth RH Centers opened throughout the country in frames of RHIYC Project are playing major role in the implementation of MDG". He also stressed the importance of ongoing close and effective partnership of the Parliament and Ministry of Health with RHIYC Project which aims at making sustainable improvement of reproductive health (RH) and rights of youth. One of the major objectives of the project is to improve the access of young people to youth friendly reproductive health services.
"The health of young people is a key priority for the European Commission. Many initiatives aimed at empowering young people to be better informed about their health have been supported worldwide. Adopting healthy behaviors early in life can prevent chronic disease later in life. Good health goes a long way in ensuring a successful and productive life. The Youth Friendly Medical- Information Centers on reproductive health opened within the regional project "Reproductive Health Initiative for the Youth in South Caucasus" is a modest but important contribution to this process", as stated by Mr. Robin Liddell, Head of Political Section of the EC Delegation to Georgia
"In 2009 marked 15 years of Cairo Conference on Population and Development. Georgia can be proud of many innovations which resulted in improvement of RH status of the population. Support to establishment of RH centers in Georgia is one of the most important investments of UNFPA in partnership with EU", stated Mrs. Tamar Khomasuridze.
In the frame of project objective - to increase awareness and improve knowledge on S&RH and rights issues - RHIYC online interactive contest on Reproductive Health issues was launched in January, 2009. It is organized on monthly basis with main objective to educate and inform youth on Reproductive Health and Rights issues. Through the country level website www.foryouth.ge young people are actively involved in discussion process and encouraged to express their knowledge as well as raise new topics for discussion. During the opening ceremony of Reproductive Health Information Center winners of the online contest were awarded special prizes.