Biden to meet Georgian authorities and opposition
By Messenger Staff
Thursday, July 23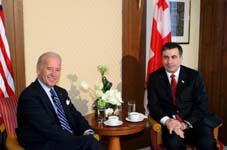 The official programme of Vice President Joe Bidenís visit to Georgia starts on July 23 with the greeting ceremony in the Georgian Presidentís residence in Tbilisi on July 23.
ďAfter lunch, the Vice President will sit down with representatives of some of the leading NGOs working in Georgia, as well as with a number of opposition leaders, including Irakli Alasania, Nino Burjanadze, and Levan Gachechiladze,Ē stated Joe Bidenís National Security Advisor at his briefing in Washington before Bidenís departure for Georgia and Ukraine.
The Vice-President is also expected at the Georgian Parliament. He will meet the Speaker, David Bakradze, and some Parliamentary opposition leaders there. After these meetings he will deliver a speech to Parliament.
Later the Vice President will meet refugee children from Abkhazia and South Ossetia who are participating in a programme funded by USAID which focuses on developing maths and English language skills. This is the last element of Bidenís programme as announced, and no public press briefing is scheduled during the visit.
The Georgian authorities will implement extreme security measures in Tbilisi. According to the Interior Ministry vehicle movement on the central streets will be blocked until Joe Biden has completed his programme. Tbilisi metro stations located in the central districts will also be temporarily closed.
The security measures will also involve removing the cells erected on Rustaveli Avenue as a part of the Georgian oppositionís protest activities. The opposition have previously announced that the cells will be removed after the visit, however Georgian law enforcers have underlined that their removal is necessary for the provision of security for the upcoming visit.