Burn, baby, Burn
By Diana Dundua
Friday, July 24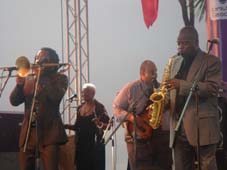 July 19, 20, 21 were the hottest days in Batumi as it hosted the third Burn Black Sea Jazz Festival and presented a mixture of genres and nations with their own interpretation of jazz. Flora Purim & Airto Moreira, Maceo Parker, Naturally Seven, The Alps Adriatic Jazz Ensemble, the Sarp Maden Quartet and DJ Giom variously took the stage at the Tarabua Beach Club and made the audience to dance till midnight.
"This is something really entertaining and relaxing as people can both have a rest and enjoy brilliant performances here in Batumi," one of the concert attendees told
The Messenger
on July 21.
The Georgian Jazz Trio, consisting of bass guitarist Otar Ekvtimishvili, pianist David Mazanashvili and drummer George Salagashvili, opened the festival on July 19. Their style and brilliant technique wowed the audience. They were followed by Flora Purim & Airto Moreira and with their exciting mix of cultural influences, sounds, colours and rhythms, which generated a powerful and enlightening energy.
"I must say that this year the Jazz Festival programme is very carefully and well selected. Legends Flora Purim & Airto Moreira are among the most famous and high-profile musicians in this field and need no introduction, and I am really very happy to be here attending this stunning concert," jazz singer Maia Baratashvili told the paper.
The festival headliners were the US saxophonist Maceo Parker and vocal group Naturally Seven. Maceo Parker, who does not need much introduction himself, was performing in Georgia for the second time and mesmerised the audience once again, while Naturally Seven's, their unusual brilliance made the audience applaud non-stop.
"Everyone is enormously contented and happy; everybody says that the festival was excellent and for me, as an organiser of this event, it is very pleasurable to see so many satisfied faces," said Kakha Kandelaki, Marketing Director of organiser Eastern Promotion, said after the festival.
The Burn Black Sea Jazz Festival has now said goodbye to its fans till next year, when the organisers promise to present more unforgettable evenings.