Controversial amendments discussed
By Mzia Kupunia
Monday, July 27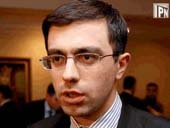 A group of lawyers, politicians and NGO representatives gathered at the
RIA Novosti
office on Friday to discuss the amendments to the law on Manifestations, Police and Administrative Offences adopted earlier this month. The amendments, which are soon to be signed by the President and thus come into force, have been criticised for being "antidemocratic" and called "a step away from democracy."
The attendees claimed that the draft amendments should have been discussed publicly before being approved by Parliament. Otar Gamkrelidze, Professor of Law, said amendments such as increasing the punishment for committing an administrative offence to a 500 Lari fine or detention for up to three months made the law on Administrative Offences more like the Criminal Code. "This is absolutely unacceptable," Gamkrelidze noted.
Former General Prosecutor and former MP Giorgi Meparishvili expressed his concerns about the amendments which give the police the right to use non-lethal weapons. He said non-lethal weapons were used on November 7, 2007 and May 6, 2009. Meparishvili said police did not have the right to use plastic bullets to disperse the demonstrators, but they did. "It has to be investigated who brought these special weapons into Georgia and who issued the order to use them during the incident at the Police Department," he noted. Meparishvili said the Government's statement that non-lethal weapons are widely used in European countries is a "lie". He said there was "no necessity to make these amendments". "Even most of the post-Soviet states don't use non-lethal weapons," he noted. "This is a step back and I guess it will have some serious negative consequences in the future," Meparishvili added.
Kakha Kukava, co-leader of the Conservative Party, suggested that the ruling administration should send the draft amendments to the Venice Commission before adopting them. He said the political aspect of adopting amendments to the law on Manifestations, Police and Administrative Offences is more important than its legal aspect. He said the Government knows there is a "big chance" of a new wave of protest rallies developing in Autumn. "These amendments are part of the solution to the protest rallies that the Government has planned. Its tragic mistake is that using force against demonstrators in September-October might lead to civil war in the country," Kukava stated, adding that "these amendments could rebound on the Government and cause more protests."
The Chairman of Law for People, Zakaria Kutsnashvili, said that the authorities will use the amendedments against their political opponents. "Soon we will see political prisoners among those detained for administrative misdemeanours if this law comes into force," he noted. Kutsnashvili said one of the most concerning issues was that administrative offenders would be placed in preliminary detention cells at police stations, where there are no proper facilities for keeping prisoners for three months.