Georgia won't be sacrificed for better US-Russia relations
By Etuna Tsotniashvili
Thursday, July 30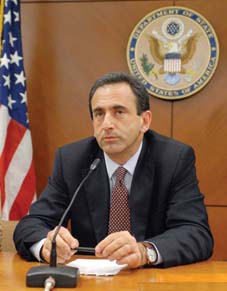 On July 28 Philip H. Gordon, US Assistant Secretary of State, reiterated his country's support for Georgia and its territorial integrity while speaking about the Administration's achievements in Moscow at the summit meeting between President Obama and President Medvedev on July 6-8.
"Notwithstanding all of these positive developments, we have no illusions that our reset of relations will be easy, or that we will not continue to have differences with Russia," Gordon stated before the Foreign Relations Committee of the US Congress. "Nonetheless, we are confident that the United States and Russia can still work together where our interests coincide, while at the same time seeking to narrow our differences in an open and mutually respectful way, be it on issues of human rights or Russia's unlawful recognition of Georgia's separatist regions," he added.
According to the Assistant Secretary President Obama was "unequivocal" in his message that the "reset" in the relationship between the two countries will not happen at the expense of the US's friends and allies, adding that the US clearly demonstrates its support with its actions. "More than in words, but in actions, we have demonstrated our commitment to the territorial integrity and independence of Russia's neighbours, including Ukraine and Georgia. President Obama made very clear in Moscow that we will continue to support their sovereignty and their right to choose their own security alliances," Gordon stated on Tuesday.
Gordon stated in his report that since President Obama took office both the United States and Russia have been working hard to achieve a fresh start and success have been achieved in many important areas. He highlighted however that there are still a lot of areas where the states disagree, including Georgia.
Georgian political analyst Malkhaz Chemia says that such obvious and clear support for Georgia from the US as well as other Western countries will deter Russia from carrying out serious provocations against Georgia, as statements about provocations are often being made as the anniversary of last year's war is approaching. "Russia will avoid creating provocations because the US position is very important and its statements are taken into account by Russia," Chemia told
The Messenger
.
Meanwhile on July 28 The Wall Street Journal published an article entitled "Biden's Good Gaffe", which stated that Ukraine and Georgia "sure made an impression on Joe Biden." It highlighted Biden's statement "that the U.S. and Russia aren't strategic equals," and quoted him as saying that "I think we vastly underestimate the hand that we hold," and noting that Russia's economy and population are "withering." It also quoted him as saying: "They're in a situation where the world is changing before them and they're clinging to something in the past that is not sustainable."