Shooting and explosions in Georgian villages
By Etuna Tsotniashvili
Friday, July 31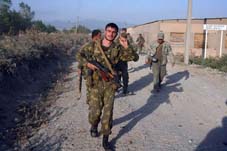 In the late evening of July 29 two Georgian villages on the administrative border with South Ossetia, Zemo Nikozi and Zemo Khviti, and a Georgian police checkpoint were fired on from the direction of Tskhinvali. The Georgian Interior Ministry reports that the shooting lasted for an hour, but neither side has confirmed any casualties. Machine guns, mortars and other weapons were used.
The Ministry of Internal Affairs says it tried to contact Russian side through the "hot line" created as a result of recent negotiations but the Russian military did not respond and avoided the calls.
On its side the South Ossetian separatist Government said that fire was opened by Georgians in Nikozi village on residential buildings in Tskhinvali. "Two explosions occurred in the southern outskirts of Tskhinvali. According to preliminary information two shots were fired from grenade launchers in the direction of residential buildings," the breakaway region's Government website said.
In an interview with Russian media separatist leader Eduard Kokoity accused the EU monitors of ineffective work and negligence in the conflict region. Kokoity said that the negligence and passivity of the EU monitors encourages Georgia to organise more provocations against South Ossetia. However the local villagers say that the shooting came from Russian-controlled territory. They say that first there was a big explosion then the firing started.
"We heard a loud explosion, everyone was woken up. We came out of our houses. After the explosion intensive firing began and lasted for about an hour. Luckily no one was injured," Giorgi Mindiashvili, a resident of Zemo Nikozi, told Georgian TV yesterday.
Yesterday the Georgian authorities responded to the incident by stating that the occupiers are doing their best to convince the world that Georgia is unstable and frighten away investors and an international observer mission presence in the conflict zone is crucial. Giorgi Baramidze, Deputy Prime Minister of Georgia and State Minister for European and Euro-Atlantic Integration, stated at a briefing that such actions have various goals; one of them is to create a new wave of aggression. He says that Georgia has no illusions that the aggressor will cease making provocations. "It is necessary for the Georgian Government and people to keep calm and meet any provocations wisely, as this is important for our country's interests," Baramidze said. US Ambassador to Georgia John Tefft has also responded to the incident, stating that the US strongly condemns any kind of provocations on the administrative borders.
Prior to this incident President Saakashvili had stated that there had been the threat of another Russian attack on Georgia this summer but strong U.S. support for Georgia and "the unity of the people" within the country had helped to prevent a new war. "The Georgian state did not collapse after April [a reference to the opposition's street rallies, which started on April 9 and lasted more than 100 days]; our people have maintained unity and our economy has not collapsed… Today Russia's economy and the economies of most European countries are in a far worse situation than the Georgian economy," Saakashvili told a group of local residents in a Tbilisi suburb whom he met as part of the new 'public dialogue.' "Due to these factors and also because of Western and U.S. support the threat of war this summer has passed," he added.