Russian-based tycoon seeks Georgian citizenship
By Mzia Kupunia
Friday, July 31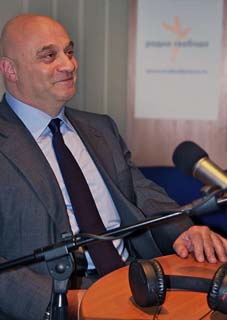 Alexander Ebralidze, a 54-year-old Georgian tycoon based in Russia who has expressed a desire to become the next President of Georgia, requested Georgian citizenship from President Mikheil Saakashvili on July 30. According to his lawyer Ebralidze, who currently holds Russian citizenship, has sent all the necessary documentation to Georgia.
"My soul aches for my motherland. I think I am obliged to personally take part in the restoration of Georgia's territorial integrity and its blossoming as a state. I request that you use your Presidential authority to grant me Georgian citizenship," Ebralidze's letter to the Georgian President reads.
Georgian officials have suggested that most probably President Saakashvili will refuse to give Ebralidze citizenship. Ruling party MP Irakli Kavtaradze has said Ebralidze can claim "no credit for the building of Georgia". "He is not a person distinguished by love for our country, neither are his activities connected with any kind intentions towards Georgia, so I doubt he will be granted Georgian citizenship," Kavtaradze said on Thursday.
Georgian-born businessman Ebralidze came to the attention of the Georgian media after his statements at the World Congress of Nations of Georgia in March 2009, of which he is President. Here he disclosed his ambition of becoming President of Georgia. Later he invited Georgian TV journalists to St. Petersburg and told them his goal was to restore Georgia's territorial integrity and purchasing media outlets, being elected President and other steps were "simply means of achieving this goal." He said that another of his goals is achieving "an independent Georgia with friendly relations with Russia."
Asked by Georgian journalists how he is going to become Georgia's President when he does not hold Georgian citizenship, Ebralidze said, "remember this question, and when I have become President of Georgia I will ask you if you remember this question." Ebralidze, who has lived in Russia for more than 30 years, has twice been convicted for hooliganism, assault and illegal possession of arms, the Georgian media has reported.
Political analysts are refraining from commenting on what might be the real purposes behind Ebralidze's recent activities concerning Georgia, saying that it's hard to tell if he is someone through whom Russia is trying to pursue its political interests in Georgia. However Giorgi Khutsishvili has expressed his scepticism about Ebralidze's political prospects in Georgia. "I don't know how realistic his ambitions are. He has been doing business in Russia for years and has not been linked with Georgia for a long time. I don't think he will be able to compete with other candidates in Presidential elections in Georgia," Khutsishvili has told
The Messenger
. "I am quite sceptical about his plans," the analyst added.