TSU and German University launch new Masters Programme
By Mzia Kupunia
Monday, August 3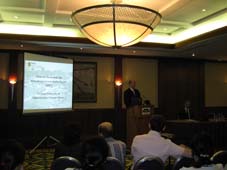 Tbilisi State University and the Speyer German University of Administrative Sciences have announced that they will launch a new joint English-language Masters Programme at TSU.
Rector of the Speyer German University of Administrative Sciences Carl-Peter Zimmerman said the programme will have a positive impact on the development of public administration in Georgia. "I have read the Georgian constitution of 1995 and I can see the orientation of the country is towards being a state which upholds the rule of law, and therefore the country needs administrators oriented to the needs of citizens," Zimmerman noted. "It is a huge task and in this period of transition you will get the chance to acquaint yourselves with new conceptions in this field," he added.
Patricia Flor, the German Ambassador to Georgia who also attended the event, called the new Masters Programme "one step forward in Georgian-German relations." "We all know that good administration is a basis for trust towards the Government. How effective your administration is is a challenge for your young state," Ambassador Flor said.
MP Gigi Tsereteli said improving public administration and creating a better administrative structure is one of the priorities of the Georgian Government. "Germany has a very good state apparatus," Tsereteli noted, "so cooperation with this country is very important." The MP said that the Government is ready to employ the graduates of the new programme. "I consider it very important that the graduates have an opportunity to use their knowledge for the good of their own country," Tsereteli stated.