Rasmussen wants Moscow to respect international law
By Etuna Tsotniashvili
Tuesday, August 4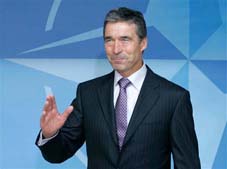 On his first day at NATO Headquarters its new Secretary General Anders Fogh Rasmussen outlined a number of his priorities to the press. These included NATO-Russia relations, where he admitted there would be difficulties.
At the press conference on August 3 Rasmussen said that Moscow should respect the territorial integrity and political freedom of its neighbours. "I'm not a dreamer. It is obvious that there will be fundamental issues on which we disagree. We have to insist, for example, that Russia fully complies with its international obligations, including respecting the territorial integrity and political freedom of its neighbours," Rasmussen stated yesterday. "But we cannot let those areas of disagreement poison the whole relationship. So my message to the Russian leadership and people is clear: let us build trust on cooperation, and base our cooperation on shared interests."
Rasmussen clearly stated that he fully supports new members joining the alliance. "I am fully committed to the principle of NATO's Open Door. Membership is not a right – countries must be ready. But NATO enlargement has already demonstrated its power to spread stability and promote reform. I expect this will continue during my tenure," the Secretary General declared.
Rasmussen added that the Russian people and authorities should be convinced that NATO is not their enemy. "I consider it a very important challenge to convince the Russian people and leadership that NATO is really not an enemy," he said.
A day earlier Russia's envoy to NATO, Dmitry Rogozin, had said that Rasmussen could visit Moscow in October or November, adding that Russia expects him to stabilise the relationship between Russia and the alliance. "We would like to hear him say that he personally is ready to do something, perhaps going beyond his status, which would normalise relations between the alliance and Russia," Rogozin said in an interview with Russia's Government daily
Rossiiskaya Gazeta
.
NATO froze ties with Russia after the war with Georgia , but re-established formal cooperation in spring.
Yesterday the Georgian authorities responded to Rasmussen's statement and said that it was not surprising for them because the Danish politician was one of the first to visit Georgia after the August war and condemn Russia's aggression. "It is very important for Georgia that the decision adopted at the Bucharest summit, which said that Georgia will one day become a member of NATO, is still in force and Russia will not have the power to influence this decision," Goka Gabashvili, an MP from the ruling party, stated.
"Denmark was always a strong supporter of Georgia and Ukraine joining NATO. It seems this will become one of the most important issues during Rasmussen's term of office as he supports eastern countries joining. We do hope that his activity in this direction will be successful," Vice Speaker and member of the Christian Democrat Movement Levan Vephkhvadze said.
Political analysts say Rasmussen is a very principled person and always fulfils his promises. "Rasmussen is known for being highly principled, and he is very devoted to democratic values, which means that any country, including Georgia, which does its homework well and creates democracy in the country will definitely have more chance to join the alliance," political analyst Tornike Sharashenidze has said.
Meanwhile on July 30 Moscow dismissed Assistant Secretary of State Philip Gordon's suggestion that Russia could become a member of NATO. Gordon said NATO should be open to European democracies, adding that "if Russia meets the criteria and can contribute to common security, and there is a consensus in the alliance, it shouldn't be excluded." Rogozin assessed this statement as "not serious enough", and said that Russia has no intention of joining the North Atlantic alliance even if it is invited, adding that it is enough to co-operate with it through the Russia-NATO Council.