Foreign Ministry condemns Russia's "deliberate attempts" to escalate the situation
By Mzia Kupunia
Tuesday, August 4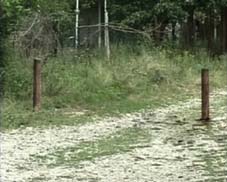 Russian soldiers have removed the iron posts they had installed earlier in the village of Kveshi, the Georgian media reported on Monday. The Georgian Foreign Ministry stated on August 2 that "Russian occupiers" had entered this village, in the Gori district. A statement on the Foreign Ministry website said that the soldiers had demarcated the boundary of the Georgian village with posts with the aim of "shifting" the so-called "border". The statement said that this "represents an attempt by the Russian occupiers to penetrate deeper into Georgian territory."
The Georgian Foreign Ministry linked the Russian activity in Kveshi with a statement made by de facto South Ossetian leader Eduard Kokoity last week, in which he said that Tskhinvali is planning to demand the 'return' to South Ossetia of the Truso Gorge, in the Kazbegi district of Mtskheta-Mtianeti. "It is obvious that the proxy regime in Tskhinvali voices plans, which the Russian occupiers are intending to put into practice," the MFA statement reads.
Deputy Foreign Minister of Georgia Alexander Nalbandov has commented on the de facto South Ossetian leader's statement by saying that the Gorge is not under any threat currently. "The statement of the Tskhinvali puppet regime leader that he is planning to extend the territories [of the de facto republic] at the expense of the Mtskheta-Mtianeti region is only a formal statement, which in my opinion will not be followed by any practical steps," the Deputy Minister said on August 3. Speaking at a traditional Monday briefing, Nalbandov said, "The Georgian side is using all diplomatic means and is working very hard to prevent such actions."
Georgia has expressed its concern about the "attempts" of Russia and the de facto leaders of Georgia's breakaway regions to "escalate" the situation in the conflict zones. "The Ministry of Foreign Affairs of Georgia condemns this action and emphasises that Russia is held fully responsible for any further provocation. Extremely alarming also is the fact that with the anniversary of Russia's aggression against Georgia approaching the Russian side and the proxy regimes under its control are making deliberate efforts to escalate the situation and behave in an openly provocative manner," the statement says.
However the Foreign Ministry suggests that it is improbable that the scenario of August 2008 will be repeated. Deputy Foreign Minister Nalbandov said, "We should be vigilant when talking about Russia, however in my mind a repetition of the events of August 2008 is not possible, but this does not mean that the level of destabilisation we are seeing has to exist and we should sit without taking any actions." Some politicians have said Georgia should respond to Russia's "provocative acts" by strengthening international monitoring. "Russia wants to stage provocations, but its capabilities are limited. They will not be able to hook the Georgian Government with their provocations," Chairman of the Temporary Commission on Territorial Integrity Issues, Shota Malashkhia, has said. "International monitors are deployed on this territory," the MP added.
The Georgian Ministry of Foreign Affairs has called on the international community to "keep a close watch on the current development of events and make due assessment of the occupier's actions and rhetoric."